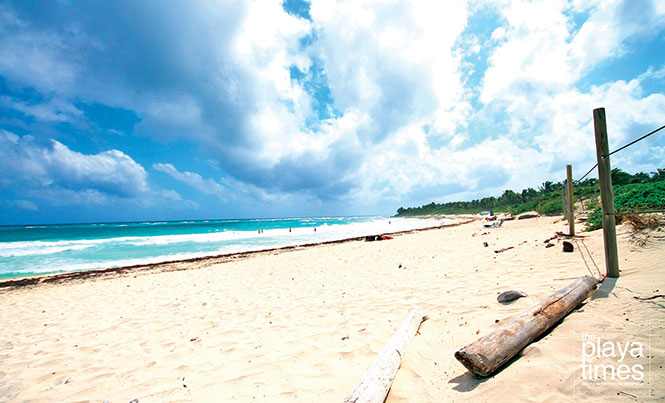 The Perfect Beach Day
Looking for a picturesque beach without the club music? How about a lazy day of doing nothing but reading a good book, getting some sun, and taking a dip in a cenote all in one spot? Well, look no further than Xcacel.
Located approximately 47 km south of Playa del Carmen, just south of Akumal, Xcacel was declared a protected natural area in 1998 and is a preserve for sea turtles. It is considered a principle Mexican nesting site for loggerhead and green sea turtles. 95 percent of the vegetation on the 362-hectare site is original and includes jungle, mangroves, coastline, cenotes and coral reefs.
No, you will not be able to snorkel with turtles here. This is a spot where turtles come to lay their eggs. During turtle nesting season, the workers and volunteers at Xcacel are very busy marking nests, assisting hatchlings, conducting research and making sure the turtles are left alone to do what they've been doing for thousands of years.
Xcacel is also home to 45 species of birds, 24 species of reptiles, 18 species of mammals and 11 species of amphibians.
There is an entry fee of $20 pesos per person, and Xcacel is open from 9:00 a.m. to 5:00 p.m. daily.
How to Get There:
Car from Playa: Drive south on Highway 307 past Akumal. You will pass Bahia Principe, the Pemex Station and finally an overpass for Chemuyil. Once past Chemuyil, you will take the retorno to head northbound. You will see the entrance for Xcacel and Xcacelito on your right.
Colectivo from Playa: The colectivos pick up in Playa on Calle 2 between Avenidas 15 and 20. Wait in line for the next colectivo and tell the guy loading the vans that you are going to Xcacel. Cost is $40 pesos. Avoid using $500 pesos bills. They may not have change. You will get dropped off shortly after Akumal. When you see Bahia Principe, just remind the driver by saying Esh-Ka-Cell. He will drop you shortly after the overpass at Chemuyil. To get back to Playa, just walk back to the highway and wave down the next colectivo.
Insider Tips:
Go during the week. There are fewer people, and there are days in the summer you will have the beach almost entirely to yourself. The weekends are more crowded, especially Sundays.

Bring a cooler and snacks. There are no restaurants, bars, or clubs (and why we love it).

Pack out what you pack in. This goes without saying but make sure to pick up every piece of garbage you create, and then stop and pick up some more. This is a turtle sanctuary, and anything you leave on the beach could be harmful to a turtle or other animal.

Pay attention to the flags. When it is windy, the water can get rough, and the currents can be dangerous. Red flag? Stay out of the water or be a strong enough swimmer to self-rescue.
Xcacelito
Roasting on the beach and need a refreshing cool down? Don't forget to check out the little cenote, Xcacelito that is located here. If you have your back to the spa, to the left you will see a wooden tower. Head towards the tower and follow the southbound path that winds through the lush vegetation, including picture-perfect palm trees. It is about a five-minute walk to the cenote along a sandy beach path and finally a boardwalk that winds through the mangroves. We recommend not thinking about how cold the water is and jump right in! Also, it is a lot easier as the stairs off the dock are very slippery. The fish will give you a free pedicure while you listen to the waves crashing on the beach in the distance. Oh, leave the beers at the beach. Alcohol is not allowed at the cenote. Remember, this is a small cenote and not a lot of room on the dock. You'll want to leave the majority of your stuff at the beach. There is no extra charge for the Xcacelito, and it is open from 10:00 a.m. to 4:00 p.m. daily.