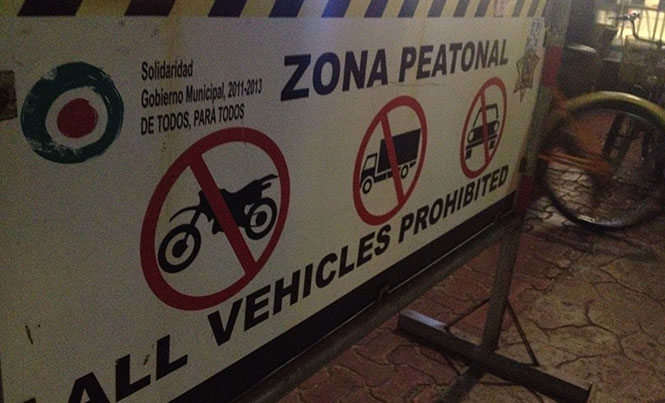 Think a ride down Fifth Avenue is a great way to start your morning? Think again
Recently, we have had some questions about whether the police can fine you for riding your bike on La Quinta. We sat down with Commander Jorge Cesar Santana Poot, Director of the Traffic Department (Tránsito) in Playa to find out more, and here is a summary of our conversation:
Is there a law against riding bikes on Fifth Avenue

?

Yes, there is a law that prevents you from riding on

La Quinta

. The law states that bicycles can only be used in public areas, and none are allowed to be ridden on walking paths.

La Quinta

is, by law, considered a walking path.

What happens if I ride my bike on Fifth Avenue?

If you are caught, the Tourist Police (

Policía Turística

) will approach you and give you a warning on your first offense. They will record your name, and if you are caught a second time, you will be ticketed. The Tourist Police will notify the Traffic Police (

Policía Tránsito)

and the traffic officer will issue you a ticket and confiscate your bike. You get your bike back only after you pay the fine. The Tourist Police can not issue you a ticket. They can only check to see if you are a repeat offender.

How much is the fine and where do I pay it?

$366 pesos (equivalent to five days of the current minimum wage). You must go to the

Tránsito

offices on the

Arco Vial

(115th Avenue) to pay the fine. Like a parking ticket, if you pay within five days you receive a 50% discount.

What if I am asked to pay cash to the officer?

Neither the Tourist Police nor the Traffic Police should be asking for cash payment. However, if this happens, Commander Santana stated that his office at

Tránsito

is always open to receive anyone with a complaint. He also clarified that 066 is only for emergencies, not complaints. We suggest that if you want to make a complaint to

Tránsito

, you bring a Spanish-speaking friend as they do not have bilingual staff.