Foodies
Mar de Olivos: A Taste of the Mediterranean in Playa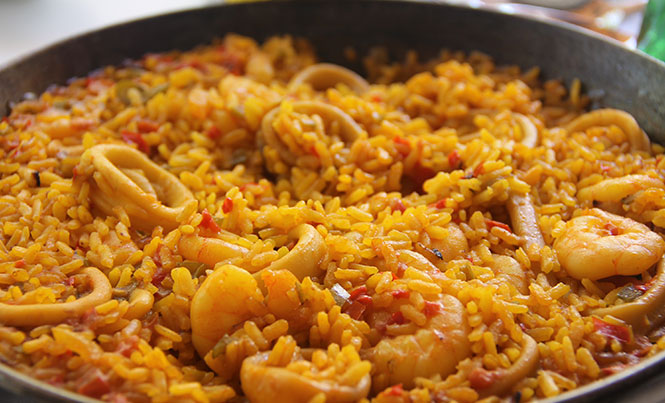 Come experience the tastes of Spain accompanied by the best wines the market has to offer
Fresh air from Spain and the Mediterranean is blowing in Playa. Mar de Olivos, meaning sea of olive trees, is a new restaurant on Calle 26 between 5th and 10th Avenues. Just off the famous Quinta Avenida, Mar de Olivos offers a quiet terrace and a nice atmosphere to enjoy elegant and surprising Spanish tapas, paella, fresh fish, a tender piece of meat, or a refreshing gin and tonic.
Mar de Olivos aims at creating a complete gastronomic experience, drawing attention to the quality of the ingredients, its presentation on the plate, and the delicate, yet warm attention to customers.
"We do not want to overprepare the ingredients,¨ the manager explains. ¨We want the customer to taste the essence of each. Thus, you will find grilled fresh fish and Angus beef and vegetables. However, if you want to treat yourself with an Asturian cachopo (two breaded beefsteaks filled with Spanish ham and cheese, a specialty from the north of Spain), you should feel free to enjoy it as well! We also offer other Spanish specialties such as roasted pork in the Segovian-style or paella that one should definitely discover! Besides, you cannot leave without trying one of our home-made desserts that will strike you with their contrasts of flavors!"
Mar de Olivos' manager is a food and a wine lover who has been sharing his passion with enthusiasm for 20 years. As such, he created a wine menu looking for varietals for all the palates and offering the best international wines on the market. However, he bore in mind that consuming a bottle of wine should not be a luxury but rather a part of a balanced diet that enhances the dining experience.
"In a nutshell, what we serve feels and tastes like Spain. We follow the Mediterranean tradition of using olive oil as the principal source of inspiration, and we strive for a fine balance between food and wine." Add to this philosophy a detail-oriented and very friendly service and you have found the place to go for a meal in Playa again and again.