Buying Locally: Farmers Markets
We decided to explore a few of the markets in the Playa del Carmen area to find out what each one had to offer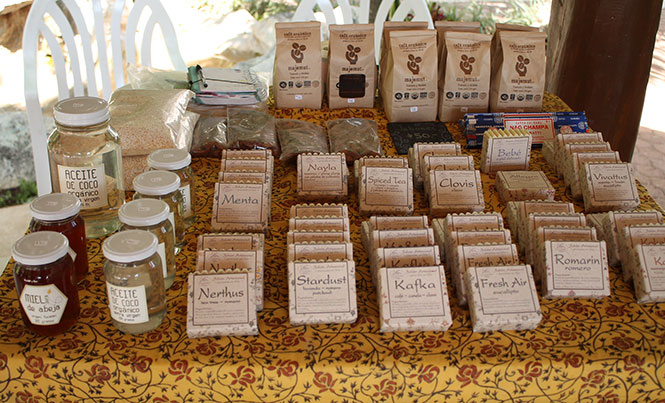 Tuesday:
Who: Kava Kasa Tuesday Market
When: Tuesdays from 11:00 – 1:00
Where: Calle 22 between 5th and 10th
How to Get There: It is an easy walk from anywhere in Centro, and there are bike stands right out front to lock your bike to.
What to Expect: This is a nice market centrally located that offers a variety of food vendors, artisanal products, clothing and more.
Friday:
Who: Coco Beach Eco Market
When: Friday from 9:00 – 11:00
Where: Condo Les Alixes, Calle 46 & Flamingos (Centro)
How to Get There: If you walk or drive down CTM (aka Calle 46) and head towards the beach, you will see Condo Les Alixes on your left at the corner of Flamingos and CTM. It is to the 7-11 store and you will see a sign out front that says "Market Today"
What to Expect: This small market had about nine vendors on the day that I went. There were a few food vendors (including Sara from Ch'arki Jerky), handmade jewelry, organic soaps, handmade bags, and perfectly beachy upcycled art. I walked away with some amazing tabouli, hummus, pita, and falafel. I honestly didn't plan on spending any money but I couldn't resist!
Who: Ecotianguis Desayuno
When: Friday from 9:00 – 12:00
Where: Jardin de Todas Centro Comunitario, Avenida 80 & Calle 3 Sur (Ejido)
How to Get There: Head west on Avenida Juarez and take a left onto Avenida 80 (you'll make a u-turn just slightly past 80 to make it over to 80). Take a left on Calle 3 Sur and you'll see the brightly painted walls of Jardin de Todas on your left.
What to Expect: Yes, it's a little further out if you live or are staying in Centro but it is worth the visit. It's a beautiful outdoor community center. When you walk through the gates you will be greeted by a beautiful garden filled with vendors selling everything from handmade spoons from locally reclaimed wood to organic, cruelty free soaps, handcrafts, food, and more. Whether you are a  tourist or a resident, a Friday morning visit to this little oasis is a must-do.
Saturday:
Who: Parque La Ceiba
When: Saturday from 11:00 to 6:00
Where: Parque La Ceiba on the corner of Calle 1 Sur and Avenida 60
How to Get There: Take Avenida Juarez and turn left onto Avenida 60. You will see the yellow walls of Parque La Ceiba on the next corner.
What to Expect: I happen to go during their 1st Mercado Vegano (Vegan Market), and I have to admit, the food was amazing. There were lots of vendors and the grounds of Parque La Ceiba are so beautiful that even if you don´t buy anything, it's worth the walk through the park. The shaded pathways makes for probably the most enjoyable environment for browsing in a farmer's market here! I will be adding Parque La Ceiba to my weekly farmer's market list for sure!
Sunday:
Who: Mayakoba Farmer's
Market at El Pueblito
When: Sunday 11:00 to 3:00 (every Sunday in April, once a month after April)
Where: Mayakoba Resort, north of Playa del Carmen
How to Get There: Travel north from Playa on the Federal Highway approximately 8.5 km. Mayakoba will be on your right. You can also take the colectivos that travel between Playa and Cancun. They will have transportation from the front entrance and the parking lots. Security at the main gate will direct you.
What to Expect: I couldn't go this past Sunday but my coworkers went, and they said it was impressive. There were 30 to 40 vendors and featured local farmers and organic foods. There was a huge variety of goods, including craft beers, mezcal, food, artisanal crafts, plants and more. From what they told me, this is definitely worth the short drive to Mayakoba, and it´s being added to my list of things to do!