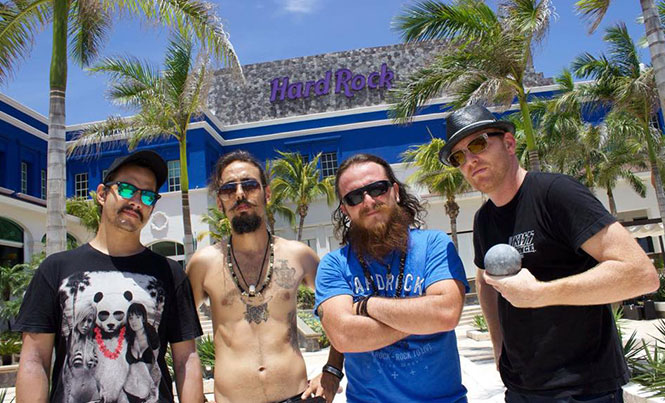 Playa del Carmen is a treasure chest of music. There are as many varieties as keys on a piano.  However, it is rare to find a band that plays different types of music. Vang does this by the guidance of "the music goddess". Learn more about this versatile band here in an interview with Oscar Vallejo, one of its five key members
How many members make up Vang and who are they?
Vang has a crew of four Rock gods.  Oscar Vallejo (guitar / piano / vocals), Juan Calavera  (bass / vocals), Adal G.(guitar / background vocals) and Arturo La Parka (drums)
What type of music does Vang specialize in?
Like a ship at sea, Vang goes wherever the music goddess says. With rock, hard rock, blues, country, Mexican regional music, such as Polka or Bolero, ethnic and pop influences. We like to rehearse one day of the week just to let go, experiment and create music, and a second day to play all the songs we have, just as if we were on a gig.
How did you guys meet or form the band and when?
Juan and Oscar met at the music academy and started Vang with "I Love u More", a tribute to Mexican psychedelic rock legends from the 70's, and El Amor in 2007. Since that date, Vang grew up, and different musicians collaborated in the first EP, "V 4 Vang". Later on, once Oscar and Juan moved to the Caribbean, they incorporated Adal to the mix for the production of "Xaman Ha Kuxa'An". However, the band was struggling for the lack of a steady drummer, until last but not least, La Parka joined ranks to give the band a solid new beat.
What makes Vang different from other bands?
We are not but artists expressing themselves through musical instruments. We don't know how other bands make their shit. We do ours from the heart to the world.
You recently recorded a new album.  What is the name and could you tell us something about it?  Where can we buy it?
The album was recorded live at Playa's Feria del Carmen 2015, with the screams and good vibes of about 5,000 Playenses. The album was named "Xaman Ha' Kuxa'an", which means "Living Northern Water." Xaman Ha' is the Mayan name for Playa del Carmen. "Kuxa'an" which means alive, the way the record was made. You can download or stream the LP or the EP on iTunes, Spotify, Amazon, Google Play, Deezer, Shazam or any other digital store. The links are below, and all the music is 4 free on Soundcloud & Reverbnation. 
https://soundcloud.com/rockvang/sets/xaman-ha-kuxaan
https://open.spotify.com/album/7buyBkHDrsiTHl6sd4UrQa
Who writes your songs and what inspires them?
All songs are written on the cosmos, inspired by life and its endless winds of emotion, and they get randomly expressed through all of us.
What is your biggest accomplishment as a band?
To have learned that, in Pink Floyd's words, "Together we stand, divided we fall."
Where and when do you guys play, so we can check you out?
We play where the wind blows. We even have a benefit program named "#Rock4all", we help with gigs and music at whichever event agrees with our code. At the same time, we teach music to ensure new generations can rock the world.     
You can check our "Xaman Ha' Kuxa'an", tour dates, news, videos, pics and more stuff Facebook/rockvang
Learn more about Oscar and his acting career here on his Wikipedia link
https://es.wikipedia.org/wiki/Oscar_Vallejo