Community
PAN & PRD Win Elections in Quintana Roo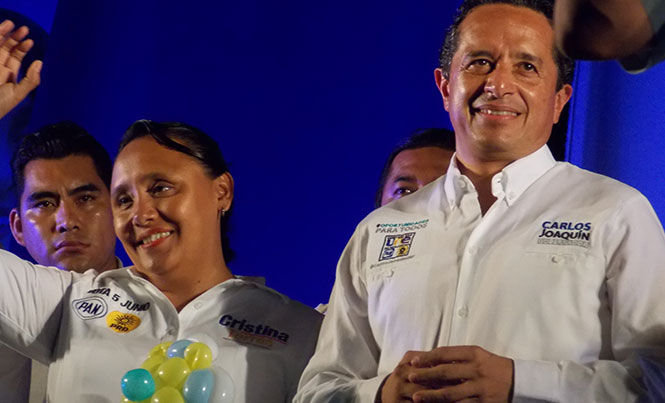 For the first time in its 42-year history, the young state elected a political party other than the PRI
On September 25, a new democratic era will begin in Quintana Roo. For the first time in its history, the state will be governed by a party other than the PRI.
In Playa del Carmen, the situation is the same, as in the elections on June 5, the Nueva Alianza (New Hope) alliance, formed by the PAN and PRD parties, were able to defeat the PRI ruling party.
Carlos Joaquín González will be the new governor. He was the President of Solidaridad (Playa del Carmen) from 2005 to 2008, pushing the Riviera Maya as a tourist destination for visitors worldwide. He was, previously, the head of the Department of Tourism for the state of Quintana Roo, a Federal Representative and Subsecretary of Tourism in the Federal Government.
After a disagreement with his party, the PRI, he decided to leave them and to join the PAN-PRD alliance for the state government. He received 228,703 votes, surpassing the former mayor Mauricio Góngora Escalante (PRI), his closest contender with 178,667 votes.
After confirming his victory in the polls, Carlos Joaquín said that he will lead an honest government "of clear accounts, going against corruption and the impunity that exists in Quintana Roo today.  A government that offers an alternative, a new way of seeing things, and without a doubt, one that will make a change, but a change with growth, with order and one that is close to all citizens, differently from what has happened in these last few years".
The local government will be headed by a woman for the first time, Cristina Torres Gómez, who won an arduous campaign. She won 20,383 votes and will be mayor of Playa del Carmen.
The state Congress will be represented by two legislators. In District X, the representative is Laura Beristain Navarrete, who has advocated for public beaches for all, while District IX will be represented by ecologist Carlos Toledo Medina, who comes from a political family, as his father was mayor of Playa del Carmen and his brother is currently a Federal Representative.