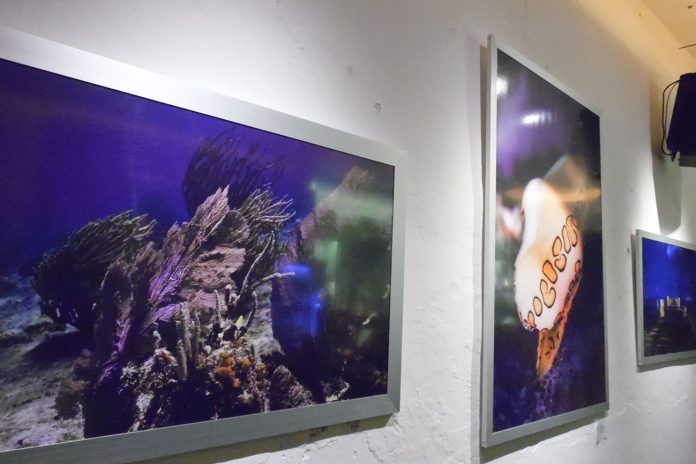 On a recent evening in Cozumel, Khela de Freslon and Oscar Larrauri shared their love of Cozumel through their photographs
The nights are really quiet in Cozumel, but you can always find something to do. On this occasion, the art exhibition by Khela de Freslon & Oscar Larrauri was held, where they told us a little about themselves, their love for the Riviera Maya and shared their photos of Cozumel Island.
They have been living on the island for several years, capturing their love for this land though photographs and showing a vision of their traveler spirit.
"We arrived at the island four years ago on a holiday visit like most people. And like many who come here we liked it and ended up staying. In those four years, we've taken our photography to many different levels. We work together and complete one another while discovering all the treasures that the island has to offer. It seems to be never ending.
Be it underwater, the people, the jungle, the wildlife or a starry night on a deserted site, the beauty of the light is what gets us.
This is our first exhibition here in Cozumel, and we tried to convey our own personal view of the island by restricting it to just a few large images.
We wanted to show how the many treasures of the island slowly came to us, by the use of delicate natural light and dreamy locations. We show emotions through shadows, impressions through movement and search for a different point of view.
We also wanted to take our work out of the computers and phone screens and make it large for everyone to see.
It was a challenge and we really enjoyed it. After working for over 20 years in the printing industry in Spain and over 10 years in photography in a few countries our quality standard has moved very high.
We're very proud and excited to show this selection of our work and in such a great setting. El Palomar is right in front of the ocean."

You can find more about their art on their Facebook page Facebook/ok more photos