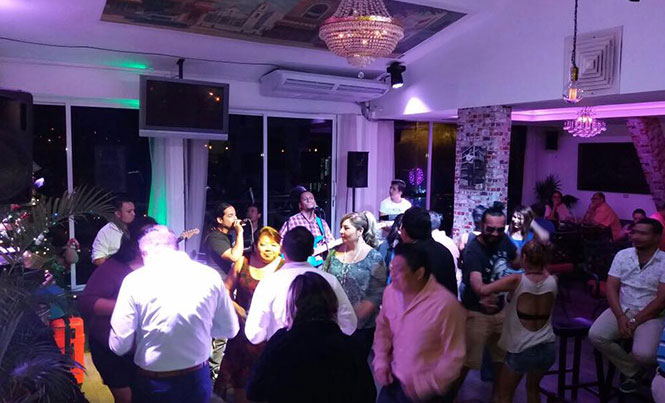 A hotspot on the island offering food, drink, entertainment and premium cigars
One of the most frequented places in Cozumel is undoubtedly La Casa del Habano Cozumel. Its location is very central, right in front of the ferry that comes from Playa del Carmen, on the corner of Avenida Melgar and Juarez. Every day you can enjoy their exquisite and innovative cocktails, in addition to their delicious and renowned fusion menu of Cuban and Italian food. Their fantastic Italian chef, Antonia Meschi, makes homemade pasta, prepares the best dishes with oysters,  chocolate clams and chirla clams from San Quintin, Baja California, plus lobster and other dishes you simply cannot help but try. Don't forget to ask about the special dessert of the week. They also serve breakfasts priced from 80 pesos.
On weekends there is live music of all kinds: salsa, rock, pop and bohemia, with various groups from Wednesday to Sunday:
Wednesdays from 11:30 pm to 3:30 am, the LSD group plays covers and rock.

Thursdays, Jorge Aquino and his band, Aguanile, play from 11:30 pm to 3:30 a.m.

Fridays and Saturdays, from 11:30 pm to 4:00 am, the Fugga group plays covers of all kinds.

Sundays, Jorge Aquino and his band, Aguanile, play Cuban salsa from 10:00 pm.
If you want to learn to dance salsa, every Thursday they have group salsa classes from 10:00 pm to 11:00 pm.
Of course, you can smoke within the facilities, as this place specializes in premium cigars and is keen to pair them with drinks and their international meals. You can try a rich cigar while enjoying the live music, on the balcony overlooking the sea, watching the sunset or the full moon.
So if you want to have fun with friends, dance a little, listen to good live music, try original cocktails, cigars and tasty dishes, visit La Casa del Habano Cozumel.  
Find more photos and information, visit Facebook/ La Casa del Habano Cozumel