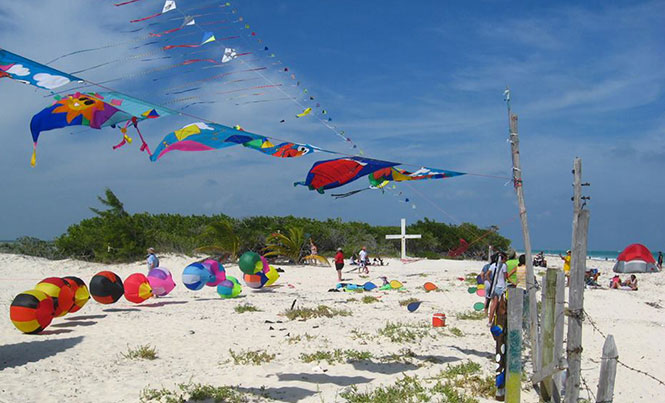 Discover why this little sandy peninsula is such a popular place for people who love the wind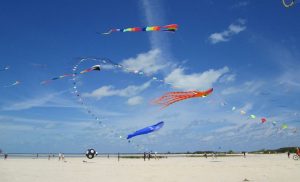 Before getting high as a kite on this great event, here is a short geography lesson. For those who are not familiar with Isla Blanca, let's start with a fun fact: it is not really an island.  It's actually a little sandy peninsula. It's called an "Isla" because in extreme weather conditions the sea manages to cross the narrowest part that's not even a half-mile wide.
IB, as my friends and I call it, is located at the northernmost point of the Mayan Riviera. It's on the mainland part of the Isla Mujeres municipality (that one is a real island). It has a 12-mile shallow littoral, a beautiful lagoon, and powder-like sand beaches.  It is a goldmine for photos for social media, and its sunsets are nothing short of epic.
Isla Blanca is also known for its constant wind that makes it the favorite spot for kite-surfers from all over the area. And for this very same reason, kite lovers were not late to embrace it.
It's been almost a decade since the kite festival began. In 2009, it was a modest project that gained popularity over time among Cancun locals and international visitors. It became much bigger around two years ago, when Cancun Pro Kids began fundraising at the event. They created new activities for children and adults, such as kite-making and kite-board lessons.
The 2016 Kite Fest was the biggest and most popular to date, hosting world-famous big kite flyers like Jim Martin and Penny Lingenfelter. This year there will be stunt kites, kite lines, and the spectacular giant kites, including the festival's signature: The massive orange octopus!
Come see this unique event taking place on February 25 and 26; all you need is a car. Access is via one of Cancun's most well-known roads, Bonampak – Punta Sam. It's a 45-minute ride from downtown Cancun. There are a few public accesses along the way, but make sure you go all the way to the end.
There is very limited public transportation to the place, only three times a day: 7 a.m. – 11 a.m – 4 p.m, departing from El Crucero.
For more information about the history, creators, sponsors and activities, visit the official Isla Blanca Kite Fest website: www.islablancakitefestival.com