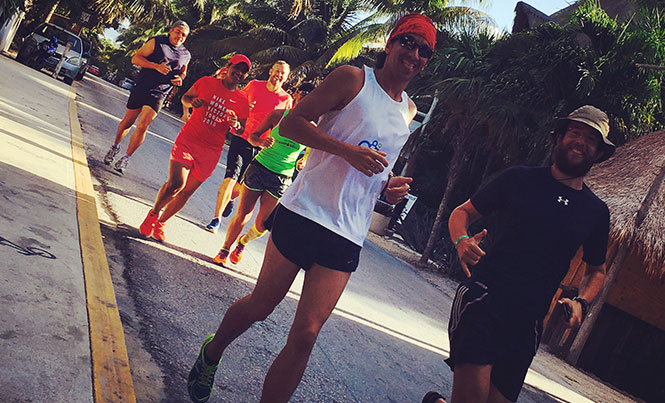 Do you want to stay active and meet new local people? This group, run by an athletic coach, might be for you
Perhaps you've already seen them around town – a group of runners casually hopping over puddles and dodging traffic, all without missing a beat as they trot along and chat away. We sat down to learn more about Tulum Running with the group's founder, Frank Campo.
Tell us about your background and how Tulum Running got started.
I am the owner and head coach at Prana Endurance Training, a coaching company where I provide personalized coaching to athletes worldwide. I am also an avid runner and triathlete who is passionate about the sport. After visiting Tulum for the past 10 years, my wife and I discovered a void for those who wanted to stay active during their time in Tulum. Shortly after making Tulum home, we created Tulum Running as a resource for tourists and locals alike. Having been part of several large running groups and making lifelong friends, I wanted to help build that same atmosphere here in Tulum.
Who is able to join your events? Do you need to register ahead?
We welcome everyone, runners and walkers of all abilities! No matter what you are training for or even if you are simply looking to be active and meet great people, join us! It is an amazing mix of locals, expats and tourists. For those of us living here, this is a great chance to meet new people and show them around our beautiful town from a local's perspective. Running transcends all languages, so don't let that stop you. We have a great time motivating one another and the energy the group brings is like no other. Great things happen when this group gets together!
We meet every Wednesday night at Campanella Cremerie in town and every Sunday morning at Tunich along the beach road. It is free of charge, and all of the details are online at tulumrunning.com.
Any exciting plans for the future?
It has been great fun participating in races as a group. In 2017, we are planning for more races throughout Yucatan and some international races too.