Foodies
Grand Hyatt Playa del Carmen at Riviera Maya Beer & Street Food Festival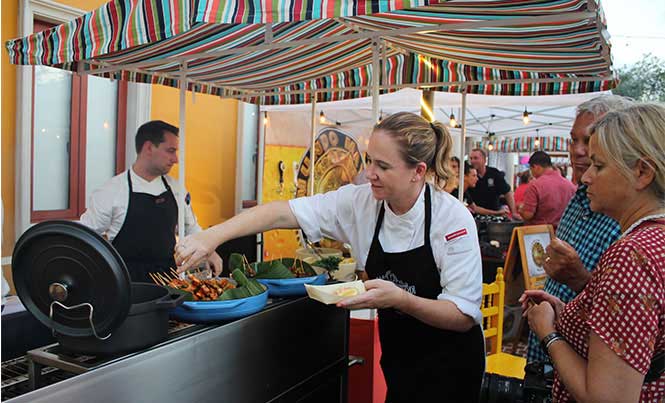 Chefs Nadine Waechter-Moreno and Corey Collins brought their culinary creations to the second edition of the festival at El Pueblito Mayakoba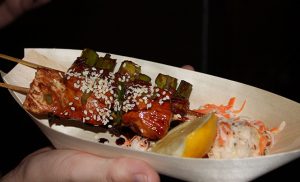 On Saturday, March 11 the chefs from the Grand Hyatt in Playa del Carmen headed to El Pueblito Mayakoba for the second edition of the Riviera Maya Beer & Street Food Festival. The festival was a huge success with residents and tourists alike mingling throughout El Pueblito enjoying local craft beers, live music, and food from the best chefs in the region.
Chef Nadine Waechter-Moreno, executive chef for the Grand Hyatt in Playa del Carmen and Chef Corey Collins, executive chef at the Grand Hyatt´s The Grill at 1-26 were kind enough to take time away from the grill to answer a few of our questions.
How do you prepare for an event like this? How much behind the scenes work happens?
We start preparing for the event like this about a month in advance. First, we brainstorm about what we would like to do and how our last event went.  How we would like to present the hotel, what other hotels are doing (to bring something unique), and what would go well with the beer.  We have a series of tastings to try out new ideas and see how our concepts will scale-up to the actual event and work on flavors and presentations. For this event, we also worked with the engineering team at the hotel to further customize our custom grill to be able to grill the yakitori the perfect distance from the coals and to hold the containers to keep the yakitori warm.  
At an event where the two of you are working together, how do you design a menu that compliments each other's styles and strengths?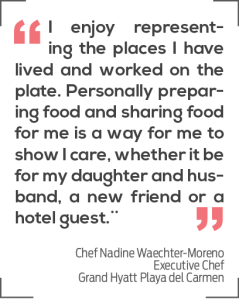 Every day is about collaboration in the kitchen, these items, in particular, were more a reflection of Chef Nadine's experience living and working in Japan and an item that is traditionally served with beer there. In general, we complement each other in a variety of ways, often on the same plate.
Your menu on Saturday night included chicken and green onion, asparagus and bacon, yuzu kosho and Japanese coleslaw. What was your inspiration for the menu?
Chef Nadine's inspiration for this dish was from living and working in Japan at the Park Hyatt Tokyo for five years.  These pairings are very traditional yakitori flavors, and we knew they could work well together.  The yuzu kosho is a traditional Japanese condiment made from yuzu citrus peel and green chilies that really gave us the explosion of flavor we were looking for.  
How would each of you describe your style?
(Corey) For me cooking is a journey that I couldn't hope to finish in many lifetimes, everyone I meet has something to teach me about food, and I feel lucky to have met so many amazing people so far. I enjoy cooking with bold flavors and not being limited to one regional cuisine of the world. It excites me when I can get people to try new ingredients or a part of an animal they didn't know they would enjoy eating.      
(Nadine) I enjoy representing the places I have lived and worked on the plate. My travels and work have introduced me to the cuisines of France, Australia, America, Japan, and Mexico. I hope my style and food brings a piece of these places to our guests here in Playa del Carmen.  Personally preparing food and sharing food for me is a way for me to show I care, whether it be for my daughter and husband, a new friend or a hotel guest.