Foodies
An Authentic Maya Gastronomic Experience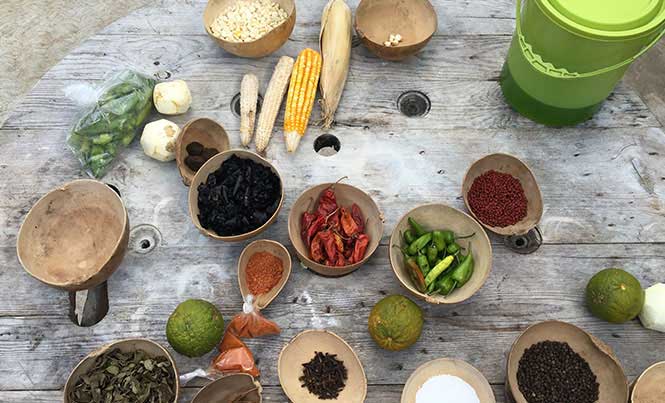 Take a trip with El Pueblito at Mayakoba to an authentic Maya village to learn how to prepare their most traditional dishes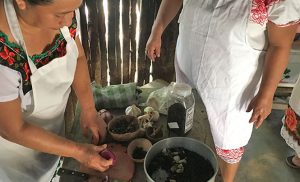 The Playa Times: Can you describe the authentic Maya gastronomic experience that is offered through El Pueblito?
Chef Karla: It is a new culinary experience where guests learn about the culture, way of living, gastronomy and the cooking techniques used in an authentic Maya village. In this experience, guests learn to cook some of the most traditional dishes from the Yucatan Peninsula such as cochinita pibil and relleno negro. They also learn how to prepare their own tortillas by hand, or as the Maya call them, choko wa – freshly made corn tortillas.
The Maya women cooks, respectfully called cocineras tradicionales (traditional cooks), share with us one of the most important seasonings used all around Yucatan and Quintana Roo for preparing traditional dishes: white, black and red recaudo. The latter is used with the spice achiote which is ground using a traditional metate (a flat stone used for grinding) for preparing cochinita pibil.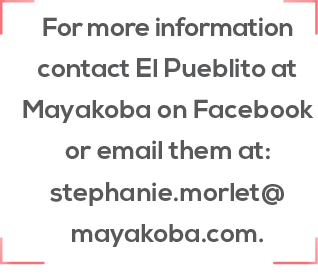 It is a perfect chance to experience the cooking techniques and recipes that have been used for centuries in their local communities, which are located approximately two hours from Playa del Carmen. Guests are transported in comfortable vans, and upon arrival, they are welcomed with a typical drink from the region (chaya water served in jicaras) and a Maya ritual with copal.
What do you hope to accomplish through this experience?
For two years, I have been working on a project with local communities in order to help them recover their traditional recipes and local ingredients. One of my main objectives is also to support them in reactivating their economy by hosting groups twice a month.
How is the program received by the community you visit?
They are very happy to share all their knowledge with guests from all around the world. They also feel very proud to see how people from other countries value, respect and want to learn more and more about what they prepare, how they live and where they get their ingredients from.
How does the program benefit the Maya community?
It really benefits them a lot, since part of the money the guests pay goes directly to them. They also have the opportunity to sell them the handcrafts they produce: hammocks, hipiles (Yucatecan dresses), honey and recaudos.
How can people find out more information?
You can visit our Facebook page, El Pueblito at Mayakoba, where you can send a message, and it will be answered quickly. You can also send an email to stephanie.morlet@mayakoba.com.
Is the number of visitors limited?
Yes, up to 10 visitors at a time.