Community
Celebrating the Earth: Eco-Cultural Festival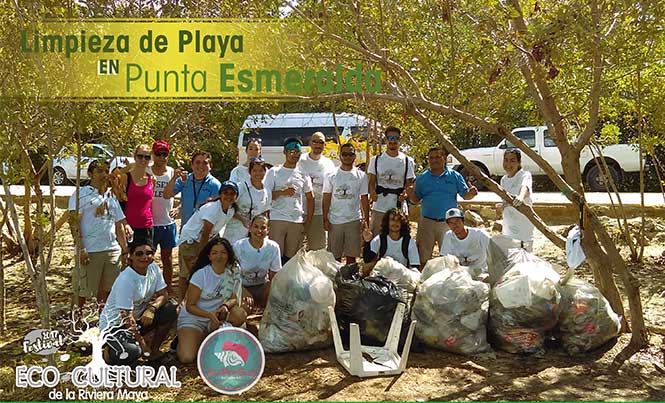 Playa del Carmen celebrated Earth Day with a beach clean up, recycling workshops, and an afternoon of art and culture
What better way to begin a day than with a festival! After months of planning and work, a ceremony of thanks was held at sunrise by the water organizers and friends who celebrated The International Day of Mother Earth, at Punta Esmeralda. It was a time to give thanks for all of the things that nature gives to us, and start the activities of the First Riviera Maya Eco-Cultural Festival.
At eight in the morning, we began a cleanup at Punta Esmeralda. With help from ZOFEMAT, volunteers, sponsors, and people who responded to the media call spent two hours cleaning up the beach, mangroves, and cenote. Incredibly, in a short time, we managed to pick up 179 kilos (394 pounds) of garbage. It was a mixture of glass, plastic, cigarette butts, bottle caps, bags, and glass. Sadly, this usually ends up in the sea. The animals confuse it for food and are dying as a result.
At four in the afternoon, the recycling workshop began, led by visual artist Yazhael Villegas. Hours later, the festival had its formal inauguration when biologist Roberto Rojo arrived. He works at Playa del Carmen's Planetarium, and we appreciated the honor of his presence.
People met at Quinta Alegria to enjoy an afternoon of art and culture. They enjoyed writers, singers, dancers, and extraordinary performances by Sandra González, Lina Olvera, Ceci "Cuentacuentos", Gaby Guerrero, Operativo Silla Móvil, Lety Rioja, Ensamble "Lazos" and Naomi Piel.
Biologist Ma. Del Carmen García, Director of the National Commission for Protected Areas of Puerto Morelos was also invited to attend.
Seventh Art invited us to view a screening of the documentary film "Erosion," directed by Sergio Santiago and Carlos Underwood.
I would like to say thank you to the organizers, Leonard Escamilla, Edén Galindo, the sponsors, the volunteers, filmmaker Miguel Gallardo and the artists who selflessly support art and culture in Playa del Carmen. Likewise, thanks to the media for the coverage of the activities and, of course, to The Playa Times for their support.