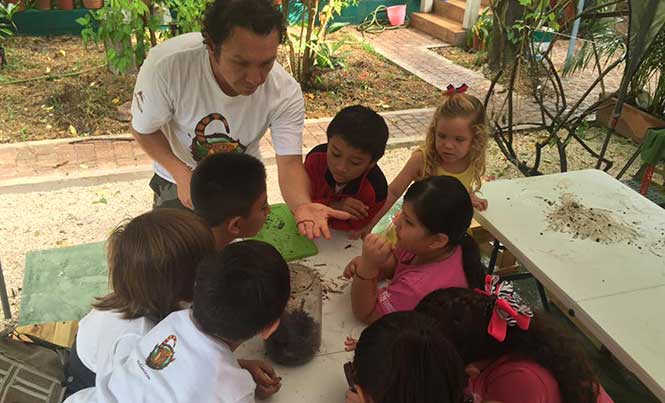 This non-profit is educating local children about the precious wildlife on the island to preserve it for many future generations
Cozumel has a beautiful ecosystem and many species are endemic to the island. It is very important to protect it and preserve this fragile ecosystem for the next generation.
Sandra Dutton is a biologist from Merida, and she has been living on the island since 2005. For eight years she worked for FMPC (Foundation of Museums and Parks of Cozumel). This is where she met her husband, Rafael Chacon, who is also a biologist, and famous on the island as an expert on birds. They have two small children and together they decided to create a program about environmental education for local children, called "Endemicos" (Endemics).
TPT: Hello Sandra, thanks for receiving me today. How did you create Endemicos?
Sandra: Thank you! I'm very happy to share my passion with The Playa Times today. When I was working with FMPC, we also did activities with the local children and I remember asking them which animals they know and they replied "Elephants and zebras". Then I asked, "And what about the animals that live in Cozumel?" There was a big silence. Unfortunately the local people do not really care about their island; they are not really educated to respect their environment. Here the children spend more time in front of the TV for convenience, than outside enjoying the beauty of their island. My husband, Rafael, and I decided to create Endemicos to teach these children to learn about and love the sensitive wildlife of Cozumel, and to help them to develop a conscience."
What is the program of Endemicos?
We welcome children from four to seven years of age. Every Saturday from 9 a.m. to 12:30 p.m., we deal with one environmental issue with the children in our special area or outside. Pollution, recycling, endemics, animal rescue, cleaning; I like to make them wonder about the environmental problem, and I want them to look for solutions for the future. I want them to reflect on what they have learned with us. It is really clear that children learn and memorize better if they are the actors in what they are living. This creates future adults who are more conscious and respectful of their environment, able to criticize and take action."
Endemicos is a non-profit organization and they are doing a great job. To survive, the association sells t-shirts, caps, and bags. They also accept some help with pencils, painting, paper. Of course, to make this project grow, they also need funding .
Contact Sandra at greenpez@hotmail.com