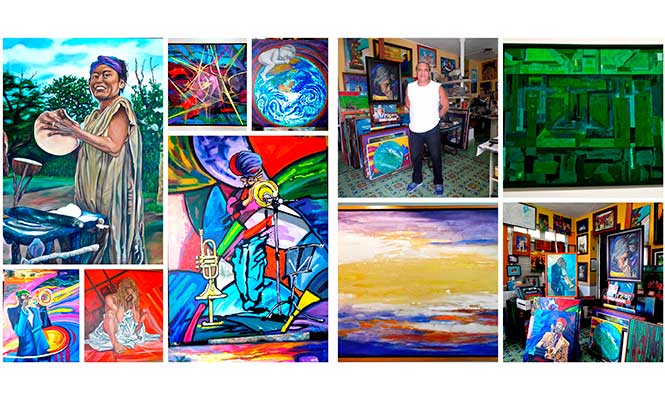 The Cozumel gallery of Galo Ramirez is a stimulation for all your senses
Watercolor, oil, charcoal, pencil and acrylic are among the tools that Cozumel-based artist Galo Ramirez has used for several decades in his work. His exhibitions, here in Cozumel and throughout the Republic, include abstract, jazz, nude and portrait pieces. His inspirations are his travels, his daily life, what he sees and what he is living.
"There comes a time when, if the artist is dedicated to a single technique, he becomes intoxicated," Galo explained to me. "It's necessary to use several textures and rhythms, to speak other languages, and recreate with new ideas ".
His paintings are displayed in restaurants, cultural centers, museums and in his gallery, and are for sale to the public.
"At Galo Art Studio, we invite you to tune in to an experience involving all the senses. The study of an artist is usually a place that stimulates all the senses. A workshop is smelled, observed, touched and felt. Creating objects with different materials usually produces sounds, from the subtle and pleasant crackling of the pencil on paper, to a thunderous electric saw. It is not only a place of work, it is also a private world. Entering an artist's studio is like breaking into his soul."
Visit the gallery at # 499 Avenida 25 with Calle 1 Sur, downtown, 9 a.m. until 3 p.m. and 5 p.m. until 9 p.m.
For more information and to contact Galo, see his work, make an order or purchase from him, visit: www.galoartstudio.com, Facebook/galoartstudio, Galoartstudio@hotmail.com, phone: 987 869 0826