Real Estate & Legal Topics
Taema Sales Office Grand Opening Event
The new development located in Puerto Aventuras, featuring a private airfield for plane enthusiasts, held an event last week for the opening of their sales office in La Quinta Alegria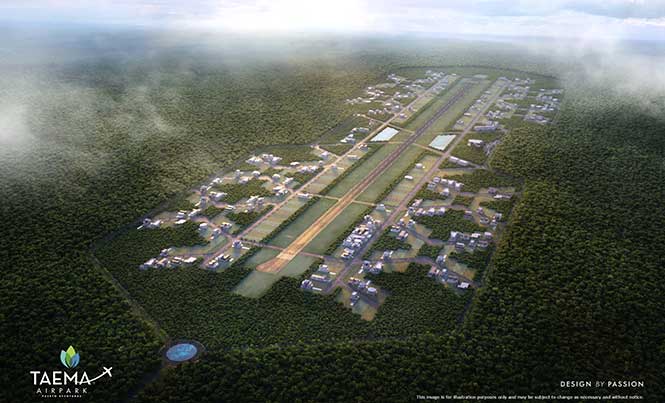 It's the evening of June 15, and I am at my favorite shopping mall in Playa del Carmen, La Quinta Alegria. I am there to attend an event to celebrate the opening of the sales office and showroom for a new development called Taema. So what is Taema, you ask? We are about to find out.
The office is easy to find, located on the ground floor next to the Mac store, and as I walk inside, I see a monitor on the wall showing a slideshow of images from the project. There is a large map on the opposite wall showing the development in detail, while a large spread of food sits on the table in front of it. Refreshments are being offered, and I see some familiar faces from the real estate community who are eager to find out more.
"The project has taken eight years now," Jean Damien de Terwangne, the director of the project, told me. "We began with the idea of creating a new concept in Mexico of being socially and eco-responsible. The hacienda lots start at 400 m2 and feature amenities such as 1500 meters of cycling and jogging tracks, 24-hour video surveillance and controlled visitor access, and beach club."
Taema also has an agreement with the Puerto Aventuras Golf, Marina and Beach Resort for the use of their services and attractions. The first phase, Hacienda, is due to be delivered in August of 2017.
The big idea behind the second phase, Airpark, scheduled for delivery in September 2019, allows residents to arrive in their own airplane, park in a private hanger, and walk a short distance to their homes. It is for those who live, breathe, and eat aviation and aims to create a community of pilots and aircraft owners, similar to how Puerto Aventuras is for boat owners. With the combination of beach, marina, private airport, and a beach club, Taema offers many amenities to its homeowners.
For information about Taema, visit their new office in La Quinta Alegria shopping mall, located on Fifth Avenue and Constituyentes, on the ground floor next to the Mac store. Or you can visit them online: www.taema.mx or Facebook/Taema by Etos