Cozumel
Gilda Sigie from Cozumel Scuba Fest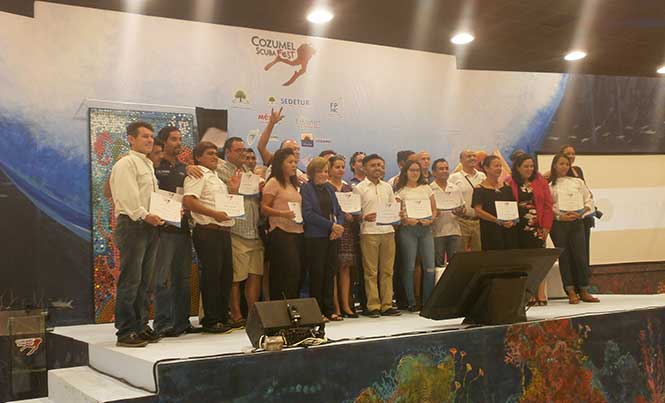 An interview with the founder of the island's diving festival, now in its fifth edition
This year, from June 20 to 25, Cozumel celebrated the fifth edition of the Cozumel Scuba Fest. I interviewed Gilda Sigie, the founder and director of Cozumel Scuba Fest.
The Playa Times: How did you create Cozumel  Scuba Fest, Gilda?
Gilda: Cozumel Scuba Fest is a diving festival. The event was created in 2012 with the aim of bringing Cozumel back to the minds of the divers and attracting the attention of the press by showing our marvelous coral reef.
Cozumel has the second largest reef in the world, the Mesoamerican Reef, and our corals and marine life are in great health. The island needed an event dedicated to the reef and how to protect it. This festival was born in Cozumel, with people from Cozumel; residents, business people, and NGOs.
Cozumel Scuba Fest has become a very important platform for divers and ocean lovers to express in many different ways their passion for the sea, via conferences, exhibitions, art, and music.
What about Scuba Fest 2017?
We are very excited about this fifth edition of Cozumel Scuba Fest! We are launching a new tourism product through the "Jean Michel Cousteau Scuba Fest Route" consisting of nine investments in the reefs that the scientist and explorer, Jacques Cousteau visited in the 60s when he traveled to Cozumel island. This route is sold in Cozumel through the dive operators for visitors from all over the world to take the trip in any month of the year.
At the MUSUBO, the Underwater Museum of the Golden Diver, the celebrated oceanographer, Dr. Sylvia Earle, will revisit the bronze bust sculpture representation of her that was submerged during the last Scuba Fest. Other bronze busts of the late Mexican underwater filmmaker Ramon Bravo and Jacques Cousteau were also permanently placed here during ceremonies at previous Scuba Fests.
How do you see Scuba Fest in the future?
It will always be a meeting point for big divers, where we recognize the work and passion of industrial and recreational divers, and create a conscience in the young people who will take care of our reefs in the near future.