Foodies
In the Kitchen with Lily
When searching for authentic, local experiences that will take you to ¨real¨ Mexico, look no further than Rivera Kitchen Tulum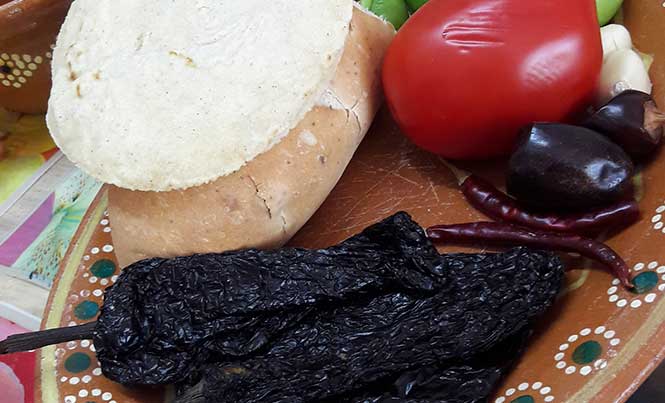 Since moving to Mexico almost five years ago, I have developed a love and deep appreciation for Mexican cooking. Yes, of course eating the food is the reward but the experience of being in a Mexican kitchen, learning recipes and techniques passed down from generation to generation is what deepens my connection with this incredibly diverse and culturally rich country. When I was invited by Lily from Rivera Kitchen Tulum to take a cooking class with her, I jumped at the chance. I had been following her for a few weeks on Facebook and knew that I would learn techniques, like making tortillas, that I couldn´t learn from a cookbook.  
When we arrived at Lily´s house on the road to Coba, the other students were already there. There were six of us in the class, a couple from the U.S., a couple from Australia, Ana, also from The Playa Times, who is from Puebla, and me. Lily introduced all of us and right away, I knew I was going to love the class. Lily is originally from Oaxaca, and her energy and enthusiasm for Mexican cooking and tradition are infectious. She has incredible knowledge and a very natural teaching style. She speaks fluent English but perfectly mixes in little bits of Spanish that gives the entire experience authenticity.
She began the class by giving us a fascinating presentation on the history of Mexican food. We learned that pre-Hispanic cultures throughout Mexico ate a mostly vegan diet, with very little meat. They received their proteins by eating bugs, including chapulines (grasshoppers) and escamoles (ant eggs).  We learned about the importance of corn and about the process of nixtamalización. And, of course, she could not leave out chiles. She told us that every meal she prepares includes chiles because they add so much flavor and life to the dish. We also learned that there is no such thing as a fresh chipotle. Chipotles are jalapeños that have been dried and smoked. I´ve eaten chipotles for about three years now and never knew that they were jalapeños!
Next, we moved onto preparing the dishes that were on the menu. These included sopa Azteca, arroz (rice) with poblano peppers, mole ranchero, salsa taquera, tortillas, and quesadillas. Lily gives each person the opportunity to participate in the preparation of the meal. We each had a role in the prep work, whether it was removing the seeds from the dried chiles (to reduce the spiciness), chopping the poblano peppers for the rice, or slicing the tortillas for the sopa Azteca.
We then headed to the stove, where Lily showed us how to prepare the chiles for the mole in clay pots. You will know they are ready when you can smell them, and wow, what an aroma they have! We learned how to properly cook rice in the Mexican tradition and how to know when the mole is perfect, all while taking turns at the stove.
Then, it was back to the table to learn to make homemade tortillas to eat with the meal and to make quesadillas. Once all the food was prepared, we sat down to eat.   And eat we did! I can´t even do the food justice by trying to describe it to you. It was so rich with flavors but none of them overwhelming. The handmade tortillas were a perfect compliment to the meal, and I enjoyed them so much that I went home and bought a tortilla press! (I might add that I was successful in my tortilla-making session on Saturday morning!)  
I cannot recommend a class with Lily enough. It is a wonderful way to experience authentic Mexico and support a small, local business. You will learn so much and walk away with a full belly and soul.
For more information on Rivera Kitchen Tulum, please visit Facebook/Rivera Kitchen Tulum or www.riverakitchentulum.com.