Editorial
Escaping the Summertime Heat
El Cielo is at the southern end of Cozumel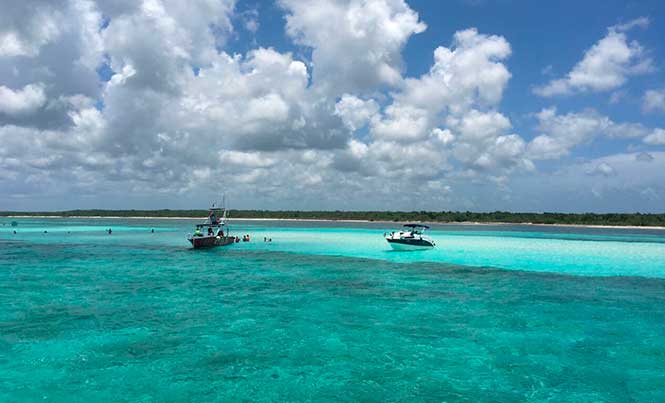 I judge how hot a day is based on how many showers I take, as in ¨today is a two shower day¨. Lately, the days seem to be creeping into the three showers a day territory. Of course, I don´t think I´ve ever taken three showers, but there certainly are days where I probably should have! I remember when I first moved here, I thought it was odd that women carried umbrellas on perfectly sunny days. Now, I understand. Many of us spend the day trying to dodge the sun and fight for any shade that we find while walking through the streets. On Sundays, when most Playenses have the day off, you´ll find the cenotes and beaches packed with people escaping the blazing temperatures. You´ll also find the malls and movie theaters packed, with people seeking solace in air-conditioned spaces.
In this edition, we don´t send you to the movies or the mall, but we do make some recommendations about places to cool down, whether that means heading underground to Río Secreto or some cool bars for refreshing cocktails. We recently headed over to Cozumel to cool down at El Cielo. Only accessible by boat, El Cielo, which means heaven in English, is a beach on the southern end of the island. Boats anchor in the shallows and everyone hangs out in the waist deep water and sandy bottom. You can also swim to shore to enjoy a walk on the secluded beach. My sunburn will attest to the fact that I hung out in the water the whole time, enjoying the ceviche and other snacks our crew from Blue Angel Dive Shop provided as part of the trip. The local sea life must be pretty used to boats being there and come in to hang out, searching for tidbits that get dropped in the water. We had a southern stingray cruise through and spend quite a bit of time, harmlessly hanging around our feet. We even had a nurse shark swim by, looking for a bit of ceviche perhaps? (We did not feed the animals that came in, and we discourage anyone from feeding or touching wild animals.) El Cielo was an amazing spot to spend a hot day! Just remember to use biodegradable sunscreen to prevent looking like a cooked lobster, advice I will try to heed next time I go back!
Stay cool, and we hope you enjoy your two shower days in the Mexican Caribbean!