Cozumel
X`kanha Mother and Child Temazcal
This Maya steam lodge in Cozumel is offering special family experiences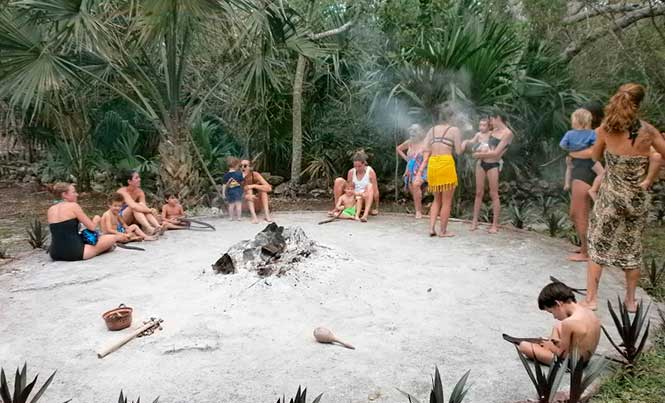 I was recently invited with my son to X`kanha for a mother and child temazcal. X`kanha is a private property located in the middle of Cozumel's tropical jungle. This peaceful and natural location houses a beautiful temazcal.
What is a temazcal?
A temazcal is a ritual in a small enclosure, where a medicinal tea is poured over red-hot stones which heat the tea and fill the area with a delicious vapor. This vapor encourages sweating, purifies the blood, cleanses veins and arteries, relaxes muscles and nerves, and helps fight stress, hypertension, poor circulation, obesity and many other ailments. It cleanses the skin, leaving it renewed, soft and smelling of herbs. In the same way, eyes, ears, and lungs are cleaned. It strengthens the heart and fights sedentarism. The intense sweating is equivalent to doing strenuous exercise but without the exhaustion. If you suffer from insomnia, a temazcal will aid a deep and relaxed sleep.
I did not know that children are allowed inside a temazcal, however at X`kanha, the temazcal is open at the top, so it is not too dark or hot for them. My son loved it. It looks like a little house, like a womb keeping him safe. It was a unique and healthy experience that we shared.
The purpose is to plant a seed in children so that they may make this practice a habit, all in a fun and enjoyable way through exercises, sacred games and the temazcali ceremony.
The objectives are to stimulate creativity, liberate expression of feelings, develop self-confidence and concentration, cultivate healthy habits, strengthen family unity, and promote respect and love for nature. For the mothers, it is a pleasant moment to share with other women.
After the temazcal, you can enjoy the cool waters of a large blue cenote and then relax in the nearby hammocks with a natural juice and fresh fruits to restore you. Experience it at X`kanha!