Entertainment
Living the Dream
An interview with funk, soul, blues singer Jimena Segovia of Puerto Morelos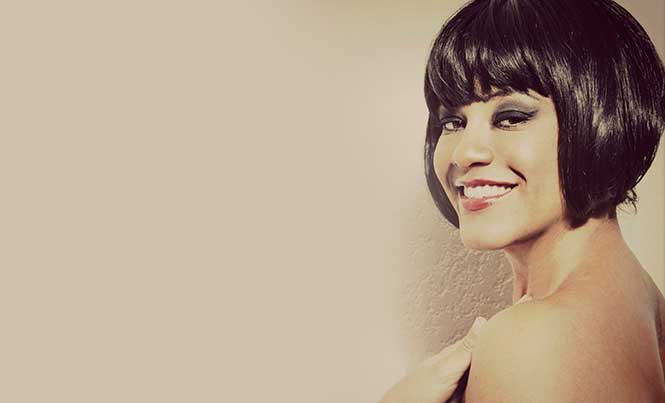 Some people have a natural beauty, a beauty that comes from the soul. Jimena is one of these people. She lives her life with passion and it pours out of her through her music.
I was delighted to see Jimena Segovia perform with the Har Har Har band at the Blues for Peace event on July 2 at Zenzi beach bar in Playa del Carmen. The Har Har Har band (director Carlos Medina Mendoza) is not her usual band, and neither is Playa del Carmen a regular stomping ground for the diva. The singer, from Mexico City, now makes her home in Puerto Morelos, a port town between Cancun and Playa del Carmen. She currently performs with two other bands: a blues band called Los Sabrosos (Víctor Gil on bass, Nuno Juárez on guitar, and Winston Marcos on drums), and a new funk / disco band called Puerto Soul (Joan Emmanuel on bass, Erick M. on drums,  Mauro Montero on guitar, and Valentino Salazar on piano).
I asked Jimena about the music scene in Puerto Morelos.
"I think it is growing, and I think it is getting better every day. The places where we work, like Unico and La Sirena, are really important to me because I have contact with the people. The audience comes to see me specially and that doesn't happen in the hotels. They are one of the best paid gigs I have, so it is really good in every way. I can perform the music that I like, and love being close to the sea. Being able to see the sea when I am singing is really, really wonderful. It makes me happy just to think about it. Also I love to see other people enjoying the beach, the sea, and the weather. It really makes me happy."
The singer, who has a unique repertoire of funk, soul, and blues, has a Mexican and Cuban background. Her sound is vibrant and unique. The singer, who also has original material, sings covers from Aretha Franklin, Tina Turner, Janis Joplin, The Supremes, and more.
"I am very lucky to be able to have a repertoire that allows me to sing only the things that I like. I've worked very hard to have the show I want, which many singers don't have the chance to. Every song I sing is chosen by me. Every song I sing has the rhythm and sound that I like, and they all have a meaning to me."
Jimena will perform monthly at both Unico and La Sirena in Puerto Morelos.
"I am going to be presenting my new band called Puerto Soul. We just got together and started writing some original music, but in the meantime we will play all the covers people like. Our next show is on July 15, and then on August 5 at La Sirena. It is a really cool place to play, the people there are really nice, and the owners treat us very well. It is a very good place."
La Sirena, owned by Anthony Chalas who is of Greek heritage, is not only a music venue, but a great restaurant boasting some amazing Mediterranean cuisine, Greek specialty dishes (including a to-die-for baklava), and more. The venue is right in the main square near the sea. Live music almost every night, including Monday jazz nights with the Riviera Maya Jazz Club, starting at 9 pm. For an updated schedule check their Facebook page at Facebook/LaSirenaPM.
For more information on Jimena Segovia, to find out where to purchase her CD, or to view upcoming shows visit her at Facebook/segoviablues or Facebook/segoviaYsabrosos.
Teena Clipston has spent more than fifteen years immersed in the Canadian music scene, making headlines in Concert Promotion, Event Production, and Artist Management. She now makes her home in Playa del Carmen, and is the owner and operator of PDCMUSIC.