Community
Coffee Tasting at Bendito's
Three coffees, three methods - Bendito's first degustación was both a sensorial and educational experience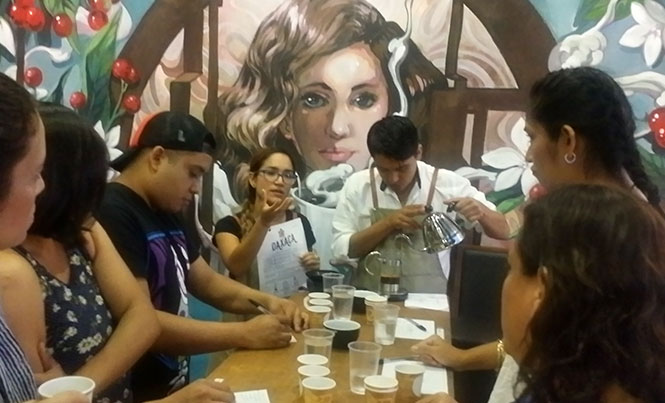 If you haven't yet visited Bendito's, it's one of Playa's coffee gems. Slightly off the beaten track on Avenida 25 behind the ADO, it offers a very pleasant atmosphere for catching up with friends, working remotely, meeting a client or simply relaxing with a book and sitting back with a good brew. Even when full, it never gets too noisy – with tasteful music at the right volume and the occasional comforting hiss of steam and milk frothers in the background. The young, professional staff is always attentive without being intrusive, allowing you to comfortably spend hours there without noticing them pass by. And the coffee is worth trying.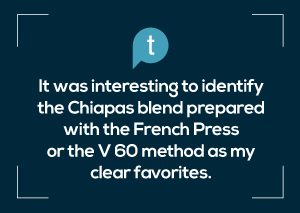 I was there on Saturday evening however for another reason. They were holding their first coffee tasting and I was curious to learn something more about this Mexican gold.
On the evening we sampled three different beans – from Veracruz, Chiapas and Oaxaca. Each one was brewed three different ways, with a French press, and the V 60 and Aeropress methods.
Our hosts, Rafael and Gabriela passionately and expertly explained the differences between the beans and the various preparation processes, encouraging us to step out of our comfort zones and explore different flavors and methods, take notes and actively make observations throughout the tasting.
Having lived in Italy for six years, I enjoy the strength of its espresso coffee and I still search for that intensity of flavor when I drink coffee elsewhere. However, also I like to sit over my drinks and in Mexico I usually order an Americano that I can spend some time drinking. While I appreciated how smooth all the brews we sampled were, it was interesting to identify the Chiapas blend prepared with the French Press or the V 60 method as my clear favorites. What satisfaction to know exactly what to order in the future to hit the spot!
Here are a few other things I learned:
Unlike wine, coffee does not improve with age; once opened, use it as soon as possible.

Coffee does not have to be kept in the fridge. It is enough to keep it in an airtight container and store it in a dark place.

The Aeropress method is very versatile and the neat, simple apparatus can easily be used when camping or even on a plane! Worth knowing, if you're a coffee addict or snob.
These young baristas are organizing more tastings and workshops in the future and if you're any way curious about coffee, I recommend attending one. It's an alternative way to spend a couple of hours in Playa learning about something new and supporting this national product. Find out more at:Facebook.com/@benditocafe1