Foodies
Mexico Lindo Cooking
A Culture to be Savored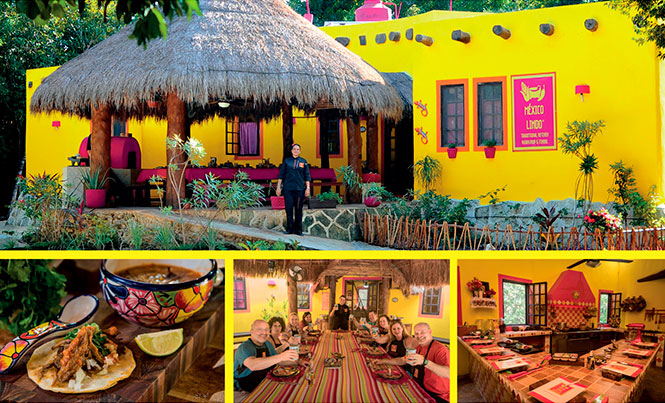 The diversity, creativity, passion, history and humor that distinguish Mexico can be savored in each one of its dishes. The sum of the food, traditions and current culinary trends provide a richness, considered by UNESCO as Intangible Cultural Heritage of Humanity. There are customs per region, family recipes, street innovation. Each with a distinctive taste, a sensory stamp difficult to imitate if the secrets behind it have not been discovered.
These secrets can be yours by entering into the peaceful village called Puerto Morelos, where there is a traditional kitchen waiting to guide you from the hand of authentic alchemists; professional chefs that guarantee the necessary knowledge to meet the interest of all types of visitors, even the ones from other culinary professionals.
Achieving the textures and authentic flavor you remember when you think of Mexico will be natural after having tried them with such teachers, who light-heartedly share their knowledge, and guide each attendee to achieve sufficient confidence and knowledge to surprise anyone when it comes to having authentic "ENCHILADAS DE MOLE" in a family meal or offering a "TAMAL ROJO" for a breakfast like no other.
There's a homey nice atmosphere here. It has its own organic garden, where you can choose some of the ingredients that will be later turned into a gourmet feast. The stories interweaving food and history are a common subject heard while the traditional techniques are shown to grind ingredients in a molcajete or roast a poblano chile in the comal. Being social is part of the culture, and many people believe that a good mood while cooking, gives better taste to food.
Mexico Lindo Traditional Kitchen, Workshop & School
Tel. (998) 802 43 88
Cel. (998) 845 93 63
Casita (998) 896 87 74
Toll Free USA +1 844 846 17 27