Foodies
Appetizers for Evening Entertaining
Three appetizers inspired by my husband's family, my grandmother and our local favorite dish, all with a personal twist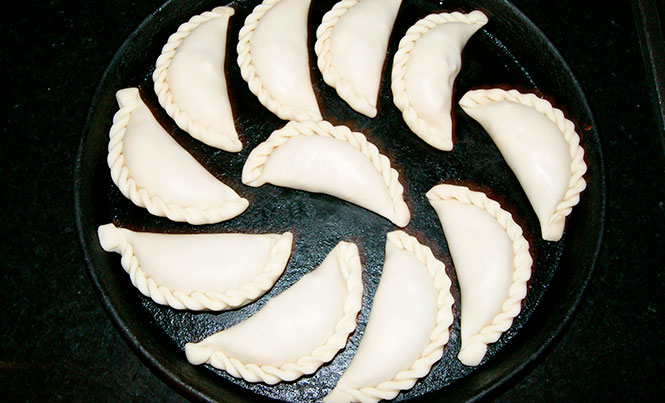 ARGENTINE EMPANADAS (makes 12)
Ingredients
450g ground beef
2 tablespoons vegetable oil
2 tomatoes, finely chopped
2 medium onions, finely chopped
2 garlic cloves, minced
10 green olives, coarsely chopped
28g capers
45g raisins
2 boiled eggs, chopped
1 jalapeño minced
Salt/pepper to taste
450g dough
Preheat oven to 325°F. Prepare the filling: heat the vegetable oil, add the tomatoes, onions and sauté until the onions are soft. Add garlic, meats, olives, capers, raisins, jalapeño and salt/pepper to taste. Continue cooking the filling over low heat for 15-20 minutes. Add the egg and refrigerate. Preheat oven to 325°F.
Make your life easy and purchase the dough, rolling thin and cutting out small 6 cm rounds. Fill each circle of dough with the mixture, fold over like a half moon, pinch the edges with a fork to seal them, place on a cookie sheet and bake till golden brown.
Serve with a chipotle mayo, parsley chimichurri or creamy avocado sauce. These are half the regular size. Just enough for two bites.
GERMAN CARAMELIZED NUTS
Ingredients
2 cups of walnut halves (or use pecans, almonds or cashews)
½ cup white sugar
2 tablespoons unsalted butter
Combine sugar, nuts and butter in a non-stick pan and heat over low temperature for 5-6 minutes, stirring constantly so all nuts get coated. Don't take your eyes off the pan or you will end up with a hot, sticky mess. Place nuts on parchment paper and separate so they don't stick. Use two wooden spoons. Work fast. My grandmother used to add a sprinkle of nutmeg, cinnamon or ginger. Be creative and add some tajin. Be authentic and serve in small paper cones.
TACOS AL PASTOR PUFFS (makes 12-14)
Ingredients
225g boneless pork loin diced (pre-cooked)
½ large onion, diced
1 garlic clove, minced
½ teaspoon oregano
½ teaspoon cumin
¼ pineapple, diced
¼ cup orange juice
1 small chipotle minced
Lime
Cilantro
Bunch chives
450g milhoja (puff pastry) in refrigerated bakery case
Preheat oven to 325°F. In a small skillet, cook onion till translucent, add garlic, oregano, cumin, pineapple, orange juice and chipotle. Add the pork and a squeeze of lime. Roll out the puff pastry dough thinly and cut into triangles (each side 8 cm). Scoop two tablespoons of meat mix into the center, top with a few leaves of cilantro and pull all three corners up like a purse, nipping the top and lightly tying with a chive. Place on a baking sheet. Put into the oven for 8-10 minutes till puffed and brown. Garnish with another slice of lime and cilantro sprig.