Foodies
Mexican Cocktails to Get Your Night Started
Cazuelas voladoras can be enjoyed with or without alcohol and are the perfect guest at any party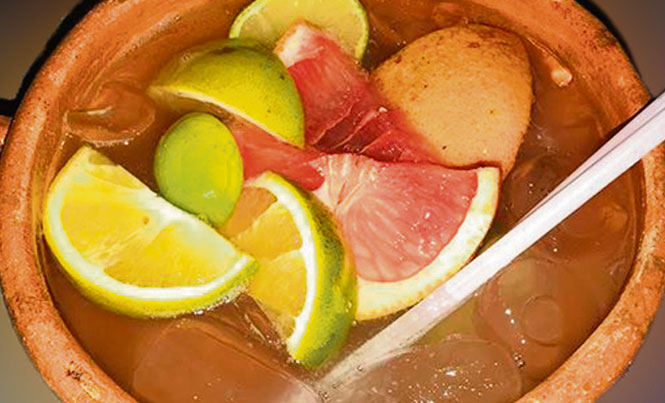 Out of many traditional drinks we have in Mexico, one that I love is "Cazuelas Locas" or "Cazuelas Voladoras", translated as "Flying or Crazy Clay Pots" (the flying depends on the amount of tequila you add!).
Originally from the state of Jalisco, where the citric flavors are the star of this drink, you can add tequila or not, but either way you will find it superb! Try it out at the next grill or barbeque; it is always a hit!
Ingredients: a very good amount of crushed ice, grapefruit, orange, sweet lime and lime, a good amount of ice, white tequila, sea salt, and grapefruit soda.
Instructions: Wash your fruit very well and squeeze them to get two ounces of grapefruit, orange and sweet lime juice and one ounce of regular lime juice. Now make three-cm orange, grapefruit, lime and sweet lime slices. Ready? Let´s prepare them: in a pot (20 cm wide, 7 cm deep) add one liter of ice, two ounces (or ¼ cup) orange, grapefruit and sweet lime juice, one ounce (1/8 cup) lime juice, ½ teaspoon sea salt, one or two ounces of white tequila (or without tequila, also delicious and very refreshing!). Mix very well and put slices of fruit on top, mix again and it's ready!!
Check us out on Tripadvisor, Facebook and Instagram. www.riverakitchentulum,com
Lily Espinosa, Rivera Kitchen Tulum, Mexican Cooking Classes and Culinary Tours