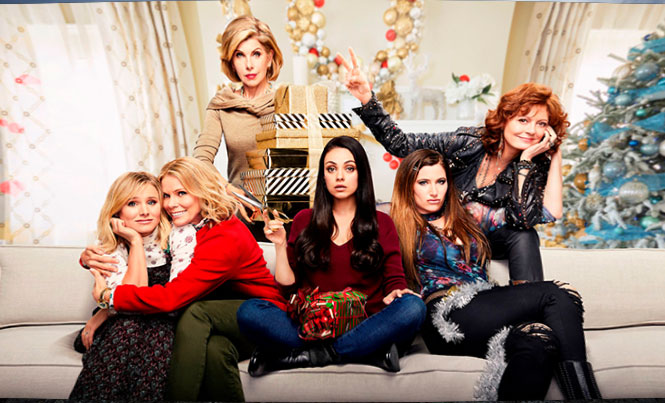 A Bad Moms Christmas or La Navidad De Las Madres Rebeldes as it is known here in Mexico, is the follow up to last year's hit Bad Moms. Amy (Mila Kunis), Kiki (Kristen Bell) and Carla (Kathryn Hahn) all return as our bad moms, but this time are all being visited by their flawed mothers. Amy, by her controlling and critical mom Ruth, superbly played by Christine Baranski. If you've seen The  Big Bang Theory, you will have had a preview of this character as she plays a similar role as Leonard's mother. Kiki;s mom is the clingy and stalker-like Sandy (Cheryl Hines). And finally, the lady who gave birth to Carla, Isis, sassily played by Susan Sarandon, who only shows up when she needs gambling funds.
We see the conflicts of grown-up children having to deal with their parents at the most stressful time of year – the Christmas holidays. We also have the same writing/directing duo from the first film of Scott Moore and Jon Lucas who are behind The Hangover trilogy. If you liked Bad Moms, you will like this one as well. Although the first one was a little better, this jaunt has many laugh-out-loud moments and lots of crude language, which is mainly used to gain laughs rather than just to shock.
Will this film change your life? No. Will you enjoy yourself? Yes – and that's what this sort of film is all about. Just a little bit of gossip: Moore and Lucas have a Bad Dads film in pre-production.
This week's star of the show is Christine Baranski who steals it with her search for perfection and cutting remarks. A not-bad-at-all 7.5 out of 10.