Community
LesMex Holiday Season Donation Event
The LGBT event and its sponsors gathered donations for the families of El Barrio Rojo in Playa del Carmen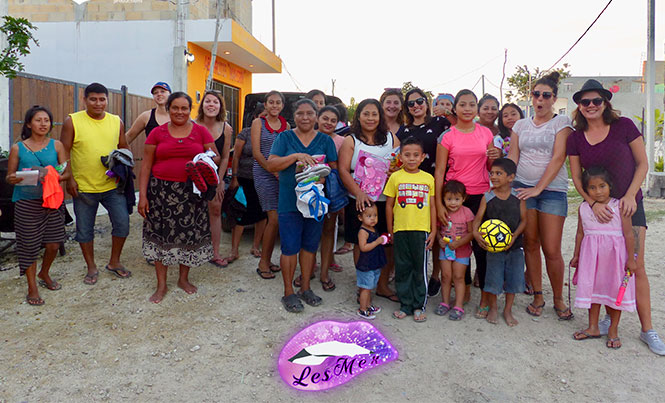 Happy new year, everyone! I hope you had a great time and that you made each moment count with your loved ones. The thing I like the most about the holidays is giving back to my community. In 2016, LesMex organized an event to donate much needed items to the community of Cancun. This year, we donated to Playa del Carmen and on December 16, 2017 we held the LesMex Posada in Puerto Morelos.
Many items were brought by the attendees of the event such as toys, food and clothes for all ages. We raised funds for Gracie Arguelles' Foundation. They are two teachers from Mexico City who donate wheelchairs, crutches, walkers and urinals for those affected by the devastating earthquake in Mexico in 2017. LesMex is accepting donations for Gracie's foundation. Please contact me through LesMex's Facebook group to donate.
A big thank you to The Hair Company, Yoga with Kate, OM Delfin LGBT Tours, Mo Pizarnik Tattoo Artist and Viajes Caribe for sponsoring the event. Thanks to all three DJs who played for a good cause; our new resident DJ Warrior, Alex Xenji and Sndell. Flora Capistran, the designer from La Fashioneria del Mar who provided the Mexican style clothes, and had the models rock the catwalk.
Last but not least, thank you to Cancun Billy's Beach Club, for making this happen! On December 23, members of LesMex went to El Barrio Rojo near Mision Las Flores in Playa del Carmen. We distributed the donations to the Maya and Mexican children and families. Books and pens were given to the schoolchildren. Others got soccer balls, dolls and toys. We even brought food for the dogs – although they didn't seem to like it that much compared to street food! The families received food and clothes and really appreciated the donations, as the holiday season can be tough for them. LesMex will continue to help people all year long, and we hope you will join us. Every three months, we will distribute your donations.
https://www.facebook.com/groups/1532339237061177/
https://www.facebook.com/thehaircompanyplaya/
https://www.facebook.com/OMDelfinLGBT/
https://www.facebook.com/viajescaribecancun/
https://www.facebook.com/La-Fashioneria-DEL-MAR-1055845217769215/