Art & Culture
Raymundo Tineo: The Chronicler of Playa del Carmen
One of the first inhabitants of the city has been documenting everything that happens here for decades, keeping a record of life here using photographs and video
Today I want to introduce you to someone who arrived here many, many years ago. Like the majority of us who arrive in Playa del Carmen, he was smitten by its great natural beauty.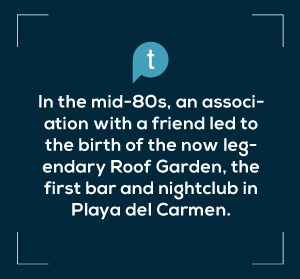 Raymundo Tineo is a well-known long-term resident of Playa and has witnessed the changes that have occurred in this tourist destination of now-international stature. He came in the 1970s for work, but was so fascinated by the place that years later he decided to leave his life and job in Mexico City and came to live in paradise.
In the beginning he devoted himself to handicrafts, starting up businesses and making great friendships with others, like himself, who were attracted by the magic of this place. Together with other entrepreneurs he founded a handicraft market located on Juárez and Fifth Avenue.
In the mid-80s, an alliance with a friend led to the birth of the now legendary Roof Garden, the first bar and nightclub in Playa del Carmen. Many tourists passed through there, most of whom were European, as well as young people from Playa and Cancun who enjoyed the special atmosphere. Patrons would listen to great music and dance, enjoying the sounds of legendary reggae bands like Splash and Bushman who played there.
Following this wave of reggae, he continued organizing events with great success for several years, including the Festival of Rock and Reggae.
From the beginning, Raymundo began to document, photograph and videotape everything that happened in Playa del Carmen and the history of its inhabitants. He also tracked the drastic environmental changes and destruction of nature that cenotes, trees, and mangroves experienced during the urbanization progress.
For his great commitment to culture, the preservation of nature, and the records he has made of the history of the city, Raymundo is worthy of the title of chronicler.
His publications include: "Playa del Carmen, Village of Fishermen" and "Playa del Carmen, XV Years of Solidarity."
If one day you need to know something about the history of Playa del Carmen, you can approach him and ask him to tell you one of his many stories about "Playita".