Foodies
Sit at the Chef's Table with Alejandro Sánchez of Royal Hideaway Playacar
Chef Alejandro Sánchez was recently appointed as Gastronomic Director at the adults-only hotel, and he's taking it in new culinary directions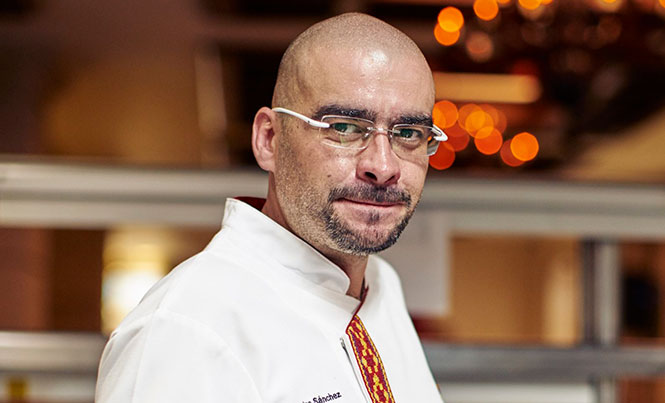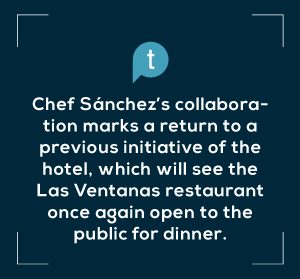 It's not every day one gets to enjoy a private meal, at a luxury hotel, in the company of a top-class chef. When I recently had such an opportunity at Royal Hideaway Playacar, I readily accepted.
La Mesa del Chef (The Chef's Table) is an exclusive concept offered by the five-star hotel in Playa del Carmen in which their recently appointed Gastronomic Director, Andalusian Chef Alejandro Sánchez, designs and personally presents each course to guests during an intimate sitting of interaction and fine dining. The experience offers a privileged view of the chef and his staff at work. A private sommelier offers paired wines for each course, and the discreet, perfectly coordinated service of the waiting staff provides the finishing touches to this special experience.
The experience is offered at the most exclusive of the resort's six restaurants, Las Ventanas, and Chef Sánchez's collaboration marks a return to a previous initiative of the hotel, which will see the Las Ventanas restaurant once again open to the public for dinner.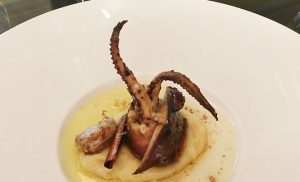 Our Chef's Table menu reflected the life, experience and travels of the Spanish chef who arrived in Mexico via Asia in 2014. After delicate hors d'oeuvres and champagne, we enjoyed an eight-course meal with an emphasis on seafood, set off by a surprising first dish of white gazpacho and a final dish of perfectly spiced, succulent pork shoulder. The chef shared his influences, including anecdotes from the fishing village Roquetas de Mar, where he grew up in southern Spain; it inspired my favorite dish of the day  – octopus on a bed of yucca, served with roasted garlic and cinnamon spiced oil. Roquetas de Mar is also the home of the chef's Michelin-starred restaurant, 'Alejandro'.
The two dessert courses prepared by the hotel's pastry chef deserve equal mention as they were as appealing to the eye as they were to the tastebuds. It seemed a pity to vandalize their delicate, artistic presentation with my fork, but it was impossible to stop once I'd started.
This is just one of the dining experiences to be offered with the arrival of Chef Sánchez at the adults-only resort. He is also redesigning the menu for the themed dinner show at the hotel's Teatro Club Royal.
We were joined by the Director General of the hotel, Ignacio Lázaro, who expressed his enthusiasm for the culinary innovations that the hotel's new gastronomic direction will bring in 2018. In taking this "qualitative leap forward", he excitedly anticipates a year of "challenges and possibilities, not just for Royal Hideaway Playacar, but for the hotel industry of Riviera Maya, Quintana Roo and the rest of Mexico". My conclusion is that they got off to a fine start.