Foodies
Introducing Upscale Kosher Dining in Playa del Carmen
Plank's executive chef has created a completely independent kosher menu to meet the increasing demand from observant Jewish tourists in Playa del Carmen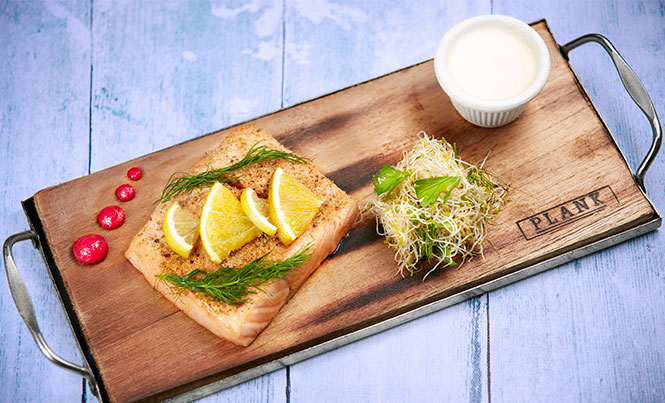 Plank Gourmet Grill & Patio Bar is one of the most prestigious restaurants in Playa del Carmen, and a recipient of the five-star American Hospitality Diamond Award for their exceptional quality and service. Their concept of using smoked wood and Himalayan salt planks is not only unique, but it also gives their dishes the outstanding signature flavor that Plank is known for. They use only the very finest prime seafood and USDA certified meat, so you can savor the quality in every bite. 
In honor of one of Plank's founding partners, Executive Chef Juan Diego Solombrino has carefully created one of the most exclusive and in-demand menus in Playa. He has taken his creativity one step further by offering a completely independent kosher menu!
Chef Juan Diego saw a need as Playa has experienced a big increase in observant Jewish tourists, and learned the essence of kosher food and preparing it a certain way. When used in relation to food products, 'kosher' means that the item in question meets the dietary requirements of Jewish law. Kosher dietary laws prohibit eating certain animals, and the ones that are permitted must be killed and butchered in very specific ways. 
All of their prime kosher meat is imported from New York under strict Rabbinical supervision and individually vacuum packed prior to being shipped to Plank. The steak is cooked on a special grill, solely dedicated to kosher products, and served on a brand new, smoked cedar wood plank to give it that spectacular aroma. 
The fantastic kosher menu is packed full of their most popular signature dishes, so you can try the best that this famous restaurant has to offer. Smoked salmon gravlax, Israeli salad, yellowfin tuna, wild salmon and prime rib-eye steak are just a few of the amazing kosher options available. Plank has also gone above and beyond with their sumptuous, dairy-free desserts and specially imported kosher wines.
No matter which fantastic kosher dish you choose, it will be lovingly prepared and cooked to perfection by their outstanding chefs.