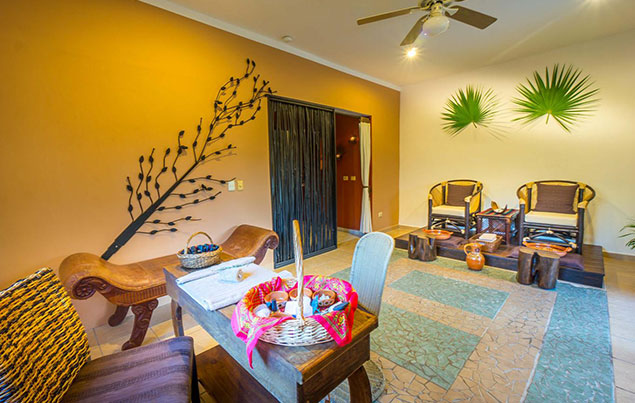 The Bric Hotel celebrated the grand opening of their holistic day spa, The Bric Spa, on October 26. We spoke to spa manager, Jacqueline, for an overview of Playa del Carmen's newest day spa.
Where did the concept of the rustic spa originate?
Jacqueline: We wanted to give people the opportunity to indulge in a divine experience by uniting them with the life-enhancing components of the remarkable nature found within the Mayan Riviera. Our objective is to transfer the health benefits and vital essence of natural herbs, plants and organic products to the mind, body and soul.
What types of services are available?
Our spa features manicures, pedicures, various massages, natural and non-toxic facials, and detox body wraps, as well as holistic therapies including Reiki and Biomagnetism. For couples, we offer a two-hour, romantic treatment beginning in our private couples room with a welcome foot bath. Next comes a full body exfoliating scrub prepared in-house using a citrus and coconut blend, followed by a hot stone massage. The ultra-calming treatment ends in the relaxation room with strawberries and wine.
What types of products do you use?
Most of the ingredients used in our rituals come from our garden and include fresh herbs such as mint, basil, oregano, rosemary and chamomile along with locally acquired plants, flower petals and essential oils..
What makes The Bric Spa unique?
Our wholesome body wraps and scrubs are made with all-natural products like seasonal fruits, pulp, seeds and sugar. It is important to us to use regional products in our blends, such as yuca, chaya, copal, papaya, locally produced honey and coffee beans. Also, spa guests gain full access to the hotel's pool and lounge area after their treatment. We also offer locals discounted prices.
Is the staff bilingual and how can potential clients contact the spa?
Our professional team of spa specialists is 100 percent bilingual. The Bric Spa is located on 28th Street between 5th and 10th Avenue. We offer monthly memberships and local discounts. We recommend you make an appointment by contacting us at spa@thebrichotel.com or (984)113-7861. Our services can be viewed online at www.brichotel.com.