Discover Mexico
Other Locations in Mexico
Izamal: Pueblo Mágico
Considered to be one of the oldest Maya cities and is on the list of sites to being considered for recognition as an UNESCO World Heritage Site. Find out what makes this beautiful yellow and white city worth the trip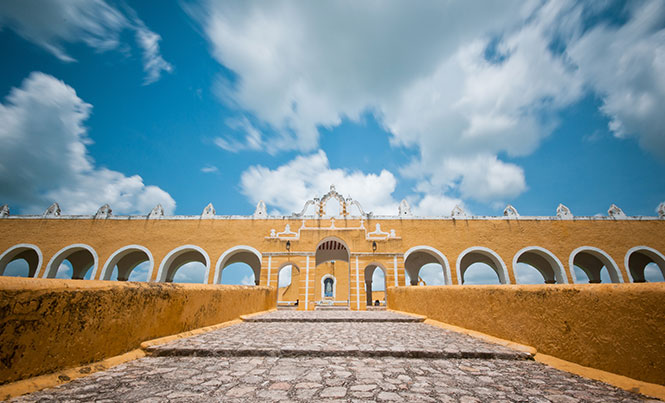 Izamal is a Pueblo Mágico located an hour away from Merida, the capital of the state of Yucatán. Like many colonial cities in the region, Izamal was built over the remains of a Maya archeological site. Notably, this site was an abandoned ancient ceremonial center. Many of the Maya pyramids of this ceremonial center have been preserved and, in addition to the Spanish buildings painted in yellow and white, serves up a visual feast for the eyes and soul.
The origins of the yellow and white color used throughout the city center are uncertain. Some say it is because people were so happy when Pope John Paul II visited it, that they decided to paint it with the colors of the Vatican flag. But that rumor doesn't hold any water since they city was already famous for its yellow well before his visit.
Izamal is known as the City of the Three Cultures, in reference to the pre-Columbian, colonial, and modern influences throughout the city. It is also called La Ciudad de los Cerros (the hill city) in honor of the pyramids located throughout the city, five of which are currently open to visit.
Kinich Kaak Moo

is the main and biggest pyramid, located in the city center. It has a smaller pyramid on top of it. So, if you really want to get to the top, you have to climb twice.

Itzamatul

is the best-preserved pyramid and open for climbing.

El conejo

(the rabbit) is the least preserved and was dedicated to the Rabbit Age in the Maya calendar.

Hun Pik Tok

is in the southwest of the main plaza.

El Convento de San Antonio de Padua

is a beautiful active church built in the 17

th

century and sits on the site of the largest of the pyramids. Unfortunately, the pyramid was destroyed to build the church. The convent contains the second largest atrium in the world, after the Vatican.
After a long day walking and sightseeing, have a relaxing tour throughout the city in a Victoria, a typical horse-pulled carriage. Then, sit down for a meal in Kinich Kaak Moo, a restaurant located near the pyramid of the same name where you can taste the best of Yucatecan food.