Discover Mexico
Talavera Pottery of Puebla
This 500-year-old traditional earthenware has a strict standard and production certification process in order to be authentic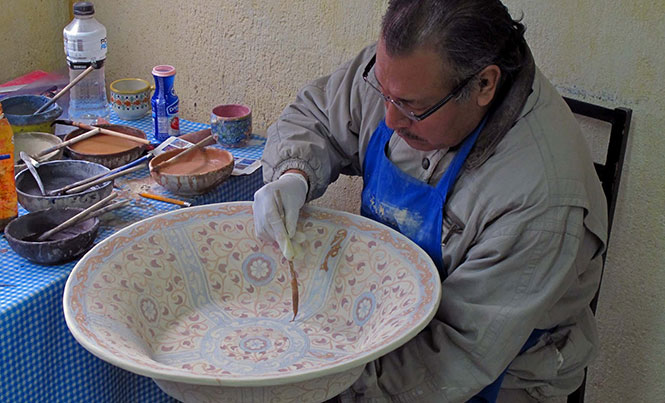 While on your travels to Mexico, you more than likely have encountered the beautiful, brightly colored earthenware known as Talavera. Everything from water jugs to bathroom sinks can be made in the Talavera style, from the Mexican state of Puebla.
Authentic Talavera comes from Puebla and its communities, including Tecali and Cholula, where the quality of the natural clay and 500 years of tradition make for a unique and much desired product. Somewhat surprisingly, six colors are allowed: blue, yellow, black, green, orange and mauve.
Like tequila and champagne, there is a standard for true Talavera pottery. The introduction of new, decorative designs and the passage of the Denominación de Origen de la Talavera law in the 1990's, protects authentic Talavera pieces, made following original 16th-century methods.
According to www.talavera.com, only pieces made by designated areas and from workshops that have been certified are permitted to call their work Talavera. Certification is issued by the Consejo Regulador de la Talavera, a special regulatory body with less than a dozen workshops, so far having received certification. Each shop needs to pass a twice-yearly inspection of the manufacturing processes and pieces are subject to sixteen laboratory tests with internationally certified labs.
Seeing one of the earliest pieces, often with cobalt blue design, which was the most prized and expensive color, reminds us a bit of Dutch Delft Blue. Talavera colors must be made from natural pigments after which the pottery is crazed. The latter being a method where a network of fine cracks are produced on the surface of the terra cotta.
The designs have a blurred appearance as they fuse slightly into the glaze. However, the base, the part that touches the table, is not glazed and exposes the terra cotta underneath. For it to be authentic Talavera, it must bear the logo of the manufacturer, the initials of the artist and the location of the manufacturer in Puebla. If any of these are not present, then that gorgeous piece of pottery may not be authentic.
Authentic talavera distributors in Playa del Carmen: