COSTAMED: Expanding its Reach in the Mexican Caribbean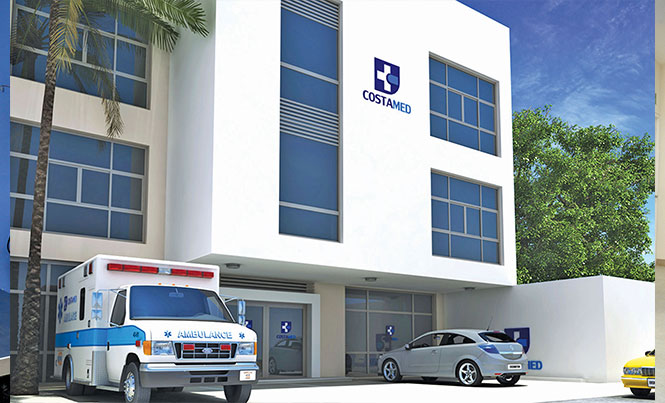 We sat down with David Lugo Segovia from COSTAMED to discuss the history of their facilities, their newest member, and healthcare support for English speakers
COSTAMED Medical Group is one of the leading healthcare systems in the region and has facilities in Playa del Carmen, Cozumel and Mahahual. They will be opening a fourth location in Tulum on April 15. We wanted to find out more about COSTAMED and its services, so we sat down with David Lugo Segovia, General Director of their Tulum and Mahahual locations to find out more.
Tell us about COSTAMED´s facilities.
We opened our first facility, Cozumel, in 1997. Several years later we opened in Playa. We started small and have grown tremendously. Both facilities offer a wide variety of specialties and technologically advanced medical equipment. In Cozumel, we offer neurology, cardiology, C-arm devices for catheterization, a completely automatized laboratory, state-of-the-art equipment, and a hyperbaric chamber. We have similar facilities in Playa with the exception of the hyperbaric chamber. However, we coordinate with other hyperbaric facilities in town.
On November 26, 2015, the Playa facility had a grand reopening after we enlarged the hospitalization room has and increased the specialities to match Cozumel. We essentially rebuilt the entire building to match our vision and commitment that we had in Cozumel. We have a clear vision for our facilities. We provide quality and trustworthy medicine within reach.
Our Mahahual facility has been open for a while, but we just had the inauguration on the 19th of February. It was born as a first contact medical unit, meaning it is well-equipped to provide primary attention in the early stages of a condition. The unit has a consultation area, two well-equipped emergency beds, artificial respirators, and a mobile X-ray unit. In addition to all of this we have a diagnostic laboratory
We will be opening our Tulum facility to the public on April 15th. Our Tulum facility will include general surgery, gastroenterology, OB/Gyn, trauma, orthopedics, pediatrics, anesthesiology and nutrition. We will have an emergency room, operating rooms, a maternity ward, as well as medical imaging (Xrays, CAT scans, and ultrasound).
Since Mahahual is so far away from your main facilities, do you have a way to support remotely the doctors who are based in Mahahual?
Actually, yes, we use Telemedic, a growing worldwide strategy used to bring medical support to isolated locations. This technology consists of state-of-the-art LED Smart TVs, super HD cameras and through an internet link, auscultation is possible with the help of the general doctor and linked to our specialists in either Playa del Carmen or Cozumel. For us, this a huge step because nobody in Quintana Roo is doing this. We are pioneers in the telemedicine here.
Does COSTAMED have English language support at the hospital?
Yes. In Cozumel and Playa, we integrated native English speakers to our staff and created a team called Patient Services (Atención a Pacientes). If a foreigner enters one of our facilities, this team takes them by the hand from the beginning and follows them throughout the entire process. They notify the family wherever they are in the world. The team works 24 hours a day while the patient is with us. They do the paperwork, arrange flights, talk to embassies, get them all the medical information in their language, and most importantly, they stay in touch with their relatives.
Is there any advice that you would give to a tourist or a foreign resident with regards to medical care or handling emergencies while in Mexico?
I think the best piece of advice I can give to travelers is that if you are going to leave your home country, make sure you have health insurance that covers you internationally. But know that in the unfortunate event that you need the insurance and don't have it, we have a medical group willing to help you and guide you through the process.