Foodies
Farmers at Your Door
Organic produce from small farmers can be hard to find here in Quintana Roo.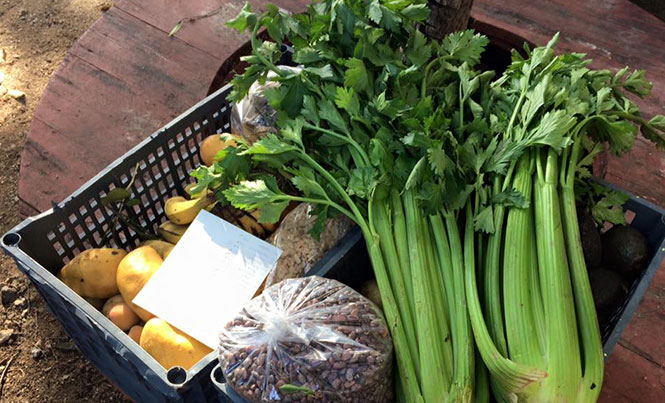 Find out how to get the healthy products you want delivered right to your doorstep
Ten years ago biologist Karla Mondragón Pérez, specializing in bio cosmetics and organic farming met her biologist husband Gustavo Ortiz Diaz in Mexico City. There they had access to a variety of organic products, but upon moving to Quintana Roo, they found that the availability was almost nonexistent. In 2011 they started an organic farmer's market in Playa, introducing pesticide-free and chemical-free fruits, vegetables and other products from Mexican farmers, especially with their two young daughters in mind, verifying that the products were in fact organic and maintaining this commitment to their project "Farmers at Your Door."
Starting with a handful of growers from Playa del Carmen, Tulum and Leona Vicario, they are now part of a bigger network of family farmers and producers from small farms including over 20 towns in Chiapas. They have reduced the logistics of travel time for these farm to table ingredients to one day, making the cost more reasonable.
For this project to continue, at least, 10 families need to participate on a bi-weekly basis. If you place an order with a minimum purchase of 600 MXN pesos they can deliver directly to your door. If you order less, you can pick up at their delivery center or ask a group of friends to place an order with you.  Their available produce list changes regularly based on the seasonal availability of products. As an example, their March 20th order included potatoes, carrots, tomatoes, green tomatoes, cucumbers, broccoli, garlic, red grapes, apples, bananas, mango, lemon, ginger root, raw sugar, raw cacao beans, popcorn kernels, beans, shelled peanuts, and white rice.    
They also feature their Xtabay line of natural and organic beauty, body and care products for children and adults, using essential oils, plants and seeds.
The next order deadline is April 10th, and you must pay before that date. If you are interested in placing an order, contact them via What´s App at 984 135 85 98, and they will provide you with the list of available products and information on how to pay. If you are placing an order under 600 MXN, they will also provide directions to their delivery center. You can visit their Facebook page for more information (Facebook/Farmers at your door) and a schedule of their workshops, including an organic edible garden or organic chocolate making. Help support a local business and small farmers by placing your orders with Farmers At Your Door.