Other Locations in Mexico
Health & Fitness
San Miguel de Allende: A Wellness Paradise Part 2
Last edition, Sara introduced us to San Miguel de Allende. In the second of her two-part series, discover places to stay and places to pamper yourself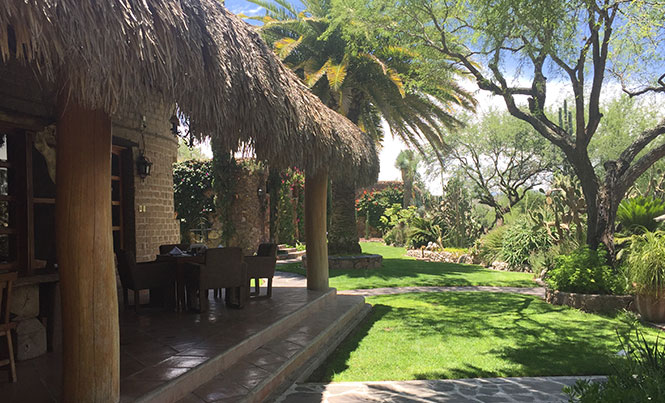 Hotels
With an eclectic collection of both modern upscale hotels and small boutique guesthouses, San Miguel de Allende can accommodate all tastes.
Hotel Matilda features contemporary style and elegance whilst also embracing the history of San Miguel de Allende. Boasting an impressive collection of art, one of the most notable works in Hotel Matilda is Diego Rivera's portrait of the owner's mother Matilda, which hangs in the lobby.
Opened in 2011, Rosewood San Miguel de Allende provides incomparable luxury and style. Luscious gardens, indoor and outdoor event space, and quaint, elegant restaurants and wood–beamed suites all make the Rosewood a great choice for accommodation. The obvious highlight of this beautiful property, however, is the Rooftop. The Luna Rooftop Tapas Bar offers a spectacular view across the city; central to which is the iconic, Neo-Gothic, rose colored church, La Parroquia.
Dos Casas Boutique hotel is something altogether unique in San Miguel de Allende. With 12 individually decorated, modern guest rooms, a central courtyard, spa and restaurant this small scale boutique hotel still manages to deliver everything you would expect from a large scale luxury hotel brand. Situated in the heart of San Miguel's historic center, Dos Casas' signature restaurant, Aperi is home to the award winning chef Matteo Salas, who creates culinary experiences for San Miguel's visitors and locals to enjoy.
Nirvana Restaurant & Retreat, ensconced in the lush green countryside outside San Miguel de Allende, is a haven of beauty and tranquility with expansive views, tropical palms and a natural thermal water swimming pool.  A spa designed just for 2, offers a range of services and the hotel's restaurant, using products from the organic gardens, offers authentic Mexican dishes with a modern twist.
Spas
Casa Sierra Nevada is spread over a cluster of historic buildings, typical of San Miguel de Allende. Home to Laja Spa, set on the side of one the quaint, cobblestone streets of San Miguel de Allende, this boutique spa offers an array of spa experiences featuring ingredients from local plants, medicinal herbs, cocoa and chili.
The Spa at Hotel Matilda is a 4700 sq ft haven with four treatment rooms, a private hammam (Turkish wet bath), two couple's suites, and indoor and outdoor lounges. There are sitting areas for pre- and post-treatment quiet time including two patios and an indoor/outdoor Relaxation Lounge with a fireplace. A fully stocked apothecary offering a variety of ingredients, extracts, clays, salts, herbs and spices is the highlight at Spa Matilda. An Apothecary Concierge is on hand to assist guests in creating a truly personalized spa experience, free from chemicals and preservatives.
Dos Casas Spa is a relaxing and holistic space offering a sauna, Hammam, experience shower and couples treatment room. In the reception area sits a unique work of art: IRIS. Created by artist and inventor Ariel Gutzik. A central crystal rod suspended over a wooden base is struck seven times to create a deep, meditative vibrating sound. This ritual and 'white noise' welcomes guests to the spa and stimulates a relaxed and meditative state of mind.  
Sense, A Rosewood Spa at Rosewood San Miguel de Allende, is situated on the top floor of the hotel's main building, La Casona. This expansive spa offers a range of healing therapies and relaxing experiences featuring saunas and steam rooms, and stylish relaxation areas with plush furnishings.
Vineyards and Farms
Under the same ownership as Via Organica restaurant, Via Organica Ranch provides opportunities for young interns to learn traditional farming methods and be part of an educational network of farmers, families and activists – all fighting climate change, environmental degradation and working towards sustainability. Offering educational tours and workshops, the ranch includes a conference center, green buildings, open spaces and reforestation, soil restoration and regenerative agriculture.
Vinícola Toyán is an organic farm and vineyard opened in 1995. The name in Nahuatl means "where knowledge is born". Producing organic crops certified by CERES in Germany. Vinícola Toyán is founded on the principles of respect and interaction with the environment, care for the health and nutrition of man, achieving value and quality in all products, and exceeding consumer expectations. A place full of delights, where stone angels sit atop pillars overlooking each row of vines, trees with wonderfully bizarre faces carved into them, line the driveway, and a wine cave lies 14 meters below ground with precisely arranged bottles and barrels.
For more information about San Miguel, visit our website www.theplayatimes.com to read the first in Sara´s two-part series on this true wellness paradise. Sara Jones is a Spa, Wellness & Lifestyle Expert and Founder of Spa Professional Mexico magazine www.spaprofessionalmexico.com