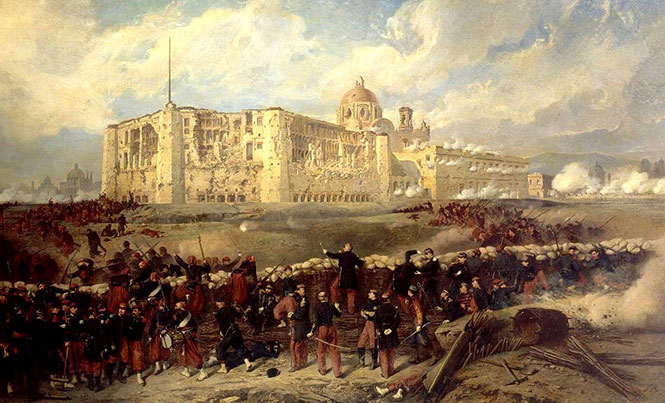 No, it is not a celebration of independence day, and we hate to break it to you, but it isn't a big party day in most of Mexico
Many in the U.S. and Canada wrongly believe Cinco de Mayo is a celebration of Mexico's independence. However, it actually commemorates the Battle of Puebla in 1862. Additionally, contrary to popular belief, while schools are closed, it is not a national holiday (it is an official holiday in the state of Puebla) and most Mexicans don't commemorate the day with parties like their neighbors to the north.
The 1858–60 Mexican Civil War distressed Mexico's economy, driving newly elected President Benito Juárez to suspend payments on foreign debts, and forcing a meeting of diplomats from Spain, France, and Britain to form the Tripartite Alliance. They intended to launch an invasion of Mexico and pressure the Mexican government to negotiate terms for debt repayment. In December 1861, Spanish troops landed in Veracruz with British and French soon following. However, the Alliance fell apart April 1862, when it became clear that the French wanted to impose harsh demands on Juarez's government and provoke war.
The British and Spanish withdrew, leaving the French forces, led by General Charles Lorencez, to march alone, withdrawing to the coast. The Mexican people misinterpreted this as a hostile action and continued miscommunications led Lorencez to occupy Orizaba, where 33-year-old Mexican Commander General, Ignacio Zaragoza and his army were badly beaten, forcing exodus to the heavily‐fortified Puebla.
Lorencez assumed that Puebla's people were friendly to the French, but this proved to be another miscalculation on his part when on 5 May 1862, against all advice, he attacked Puebla. By the end of the day the French artillery had run out of ammunition, with Mexico's forces and the Republican garrison putting up a solid defense.
As the French retreated from their final assault, Zaragoza's cavalry attacked and with torrential rains making a slippery mess of the battlefield, Lorencez withdrew, counting 462 of his men killed against only 83 Mexicans. The Battle of Puebla was an inspirational event for Mexico, providing a stunning revelation to the rest of the world, which had expected a swift French conquest.
The French regrouped and continued after Napoleon III sent additional troops to Mexico, eventually allowing them to become victorious when the capital fell, and Juárez's government was forced into exile. To this day, May 5 is a day of Mexican Heritage commemoration, not Independence Day; the latter observed on September 16.