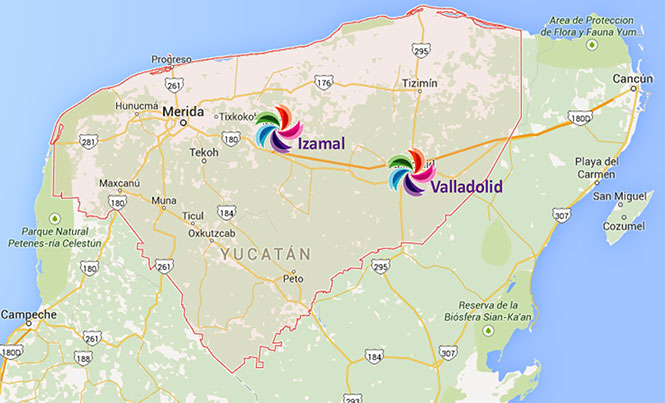 The Pueblo Mágico program, launched in 2001, identifies towns in Mexico with a rich culture, intriguing history and natural beauty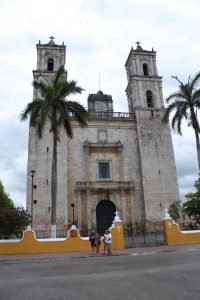 What do the towns of Izamal and Valladolid in Yucatan, Palizada in Campeche and Bacalar, Isla Mujeres, and Tulum all have in common? If you answered they are all Pueblo Mágicos, you're right! Every State in the country has at least one Pueblo Mágico (Magical Village), and the Yucatan Peninsula is proud to be the home of six of the 111 identified throughout the country.
These unique and beautiful towns are part of a program created and promoted by the Ministry of Tourism (SECTUR), in collaboration with numerous Municipal, State and Governmental agencies throughout Mexico, called Programa Pueblos Mágicos de México.
The intention of this program, launched in 2001, was to make both domestic and foreign tourists aware of the numerous unique towns and villages throughout Mexico. Each town features a rich culture and intriguing history, as well as a natural beauty, setting them apart from all the other towns. In 2015 alone over 180 towns vied to attain this status.
Although Mexico, more often than not, is associated with sunny beaches and ancient ruins, the Pueblo Mágico Program has introduced visitors to alternatives and created the magnetic pull of so much more that these towns have to offer. At least one town or village in all 31 states has been awarded the title Pueblo Mágico. Joining Bacalar, Isla Mujeres and Tulum were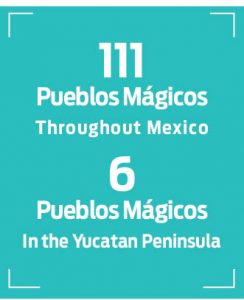 added to the list in 2015.
Description
A Pueblo Mágico is a place with symbolism, legends, history and important events. Here are our   Pueblo Mágicos in the Yucatan Peninsula.
Bacalar, Quintana Roo

is about three and a half hours south of Playa del Carmen and is home to its beautiful lagoon of seven colors.

Isla Mujeres, Quintana Roo

Let the local fishermen and divers, who have lived here for generations, show you the paradise below the sea, which they know like the back of their hand.

Tulum, Quintana Roo

is a great place to relax and get away from it all. It offers Maya ruins, stunning beaches, and a laid-back lifestyle.

Palizada, Campeche

It has one

–

of

–

a-kind wood forests called

Palo de Campeche

, and high

–

pitched French tiled roofs with elegant entrances and provincial streets.

Valladolid, Yucatan

is known for its rich cuisine including the world renowned cochinita pibil, escabeche oriental and Xtabentun (a liquor made of honey and anise).

Izamal, Yucatan

is located about an hour from Merida and known as the City of Three Cultures (pre-Colombian, colonial, and modern).