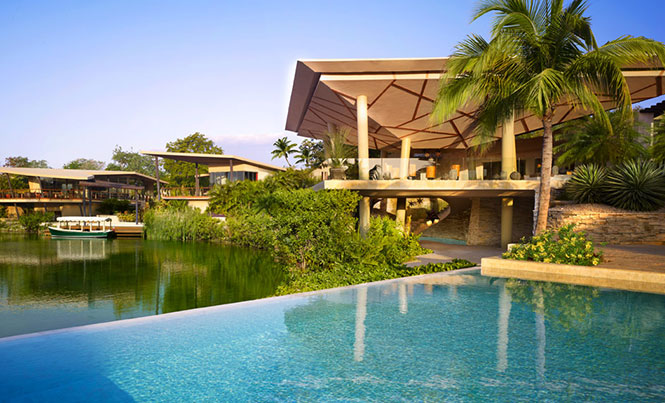 The Riviera Maya walked away with quite a few honors at the First Annual Hotel Awards in Michoacan
On May 27, the First Annual Hotel Awards took place in Morelia, Michoacan, through which the magazine Travel+Leisure recognized the best of the country's hotel industry. Awards were given according to service toward tourists.
In this ceremony, the Rosewood Mayakoba hotel won "Best of the Best" while the  Grand Luxxe by Vidanta Riviera Maya won "Reader's Choice", and "Design+Deco"; while the Viceroy won first place in the "Welcoming" category.
The Rosewood Mayakoba, Banyan Tree Mayakoba, Viceroy Riviera Maya and  Vidanta Riviera Maya came away with first prize nominations, among 45 hotels that competed in 17 categories. The Rosewood Mayakoba directors were very pleased with the final results. According to Edna Vega of Marketing and Public Relations in the complex, "This prize recognizes hotel hospitality in Mexico and this year it is more complex because tourism is in vogue. There are a lot of hotels. There are small hotels and large hotels who want to provide new experiences. It is not just the hotel room, but other concepts like food, spa, and culture".
"This year, Rosewood Mayakoba won best of the best, and this experience shows we have the best rooms, the best food, the best spa," she explained. It is important to know that this is not the first prize that the complex has received. They also have received more than 10 different prizes like "5 Diamond Award" from the American Automobile Association; the Sustainable Award from Rainforest Alliance, and others like the National Council of Education, Life and Work (CONEVyT), and the Equal Opportunities Prize from the Secretary of Labor. However, all of these prizes for Edna Vega are "an encouragement to keep being the best and look for more experiences to provide guests," she added, "it is important to innovate." The director of Hotel Awards México, Patricia Vasconcelos, is looking to give back to all hotel workers to make them happy and have happy travelers.
The complete list of prizewinners:
"Best of the Best": Rosewood Mayakoba
"Reader's Choice": Grand Luxxe by Vidanta Riviera Maya
"Beyond Business": Four Seasons Mexico City
"Design+Deco":  Grand Luxxe by Vidanta Riviera Maya
"Tropical Getaway": Nizuc
"Pet Friendly": Rosewood San Miguel de Allende
"Spa Experience": Belmond Maroma Resort & Spa
"Welcoming": Viceroy Riviera Maya
"Gourmet Experience": Dos Casas
"Bar Experience": Rosewood San Miguel de Allende
"Best View": Capella Ixtapa
"Best Beds": Nizuc
"Eco Friendly": Escondido
"Local Immersion": Hacienda Uayamón
"Wellness": Matilda
"Hotel Morelia": Cantera Diez
"Room Experience": One & Only Palmilla