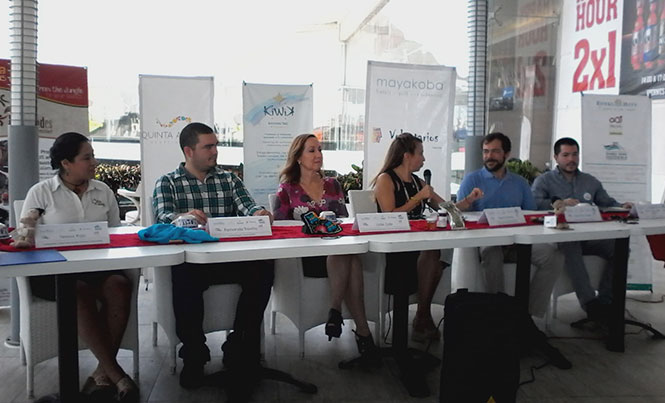 How do we stop the migration of people who leave the Maya Zone to look for jobs in hotels and restaurants in the northern part of Quintana Roo? This is a question which was asked by Beatriz Barreal Daniel, director of Riviera Maya Sostenible, upon seeing how villagers abandon their communities to look for a better life.
Four years ago, she started an important initiative to dignify the work of people living in villages like Chanchén Palmar, Chanchén l, Hondzonot, Tihosuco, Felipe Carrillo Puerto, Naranjal and Nuevo Durango, and to benefit 253 families in Quintana Roo and Yucatan.
"At the beginning we had 15 families involved because it was a new effort, the communities didn't recognize me as someone who was really trying to help them, and today they know that we are working for them," she recalled.
Now, one of the programs that the Riviera Maya Sostenible runs is Kiwik, a fair trade  initiative which looks to bring high-quality products to Playa del Carmen. Kiwik is a chain of productivity for the Zona Maya, generating pride and a feeling of belonging among the participants.
Soaps, embroidery, dresses, textiles, ointments, honey, purses, and keychains are some of the articles which can be found at Plaza Quinta Alegría. As of today, 15 expositions and sales have been held.
"We have also been able to place our musicians as part of the ceremonies in hotels for the solstice and the equinox," added Beatriz. It is also possible to buy Kiwik's fair trade articles in seven hotels within the tourist corridor.
The project works on the premise that bartering is not permitted, which is a very common practice in Mexico to pay the lowest price to indigenous producers. The process of empowerment has been achieved with success, indicated Beatriz.
"Bartering is prohibited. We want them to feel proud of themselves, and feeling dignified that their product is good, that they are providing a service, not that we are doing them a favor".
In Cancun, a workshop for vulnerable groups to manufacture aluxes (Maya elves) was started. For this initiative to become a reality, important alliances have been created with hotels, malls, and other associations.
In the future, they are looking to create agreements with the Secretary of Culture and the Commission for Indigenous Development to make this a program at the state level.
To what level has the migration fallen? "In San Juan de Dios alone, 42 families are involved in the honey cooperative, and have changed the idea that their children have to go away to work," concluded Beatriz Barreal.