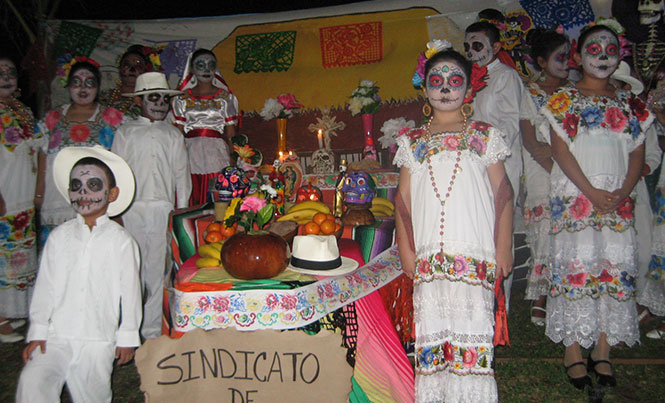 A different and more-culture-filled celebration for the deceased took place this year in Cozumel
This year, the people in Cozumel have celebrated the Hanal Pixán, which is the name given to the local celebration of the Day of the Dead. The term translates as 'food for the souls' in the Mayan language.
Perla Tun, the first female mayor in Cozumel's history, decided to remind the people of the significance of this day in the Maya culture by throwing her first celebration. She arranged to hold a beautiful culture and music festival called Hanal Pixán, for the delight of locals and tourists.
The festival Hanal Pixán opened on October 28, with a beautiful local painting exhibition in the Museum of Cozumel. It was open to the public with free admission for ten days.
Then, from October 31 to November 2, from 7 p.m. to 10 p.m., the Benito Juarez park was filled with people enjoying the celebration, while at the same time learning about the origin of this special day.
There was a gastronomy exhibition with traditional dishes that are eaten on this day such as tamales and traditional sweet bread pan de muerto, which was completely handmade by a small artisanal company. Pan de muerto is a sweetened, soft bread shaped like a bun, and often decorated with bone-shaped pieces.
The traditional skulls were available too. The chocolate house Kaokao was present, and people were able to make their own chocolate skulls. There was also a nice walking tour through the altars, called ofrendas, another tradition of this day.
There was also a Maya traditional ballet, a traditional clothing show, a catrina fashion show and a two-kilometer family race which was also organized for the last day of the celebration. The participants wore makeup and traditional costumes.
Ivan Francisco, an inhabitant of the island, told me that "this year, the day of the dead was celebrated differently than others years in Cozumel. The Maya culture was more present, sending a message to the new generations, and telling them not to forget. To be proud of who they are and where they are from. These are my feelings."
www.facebook.com/islacozumelmx.