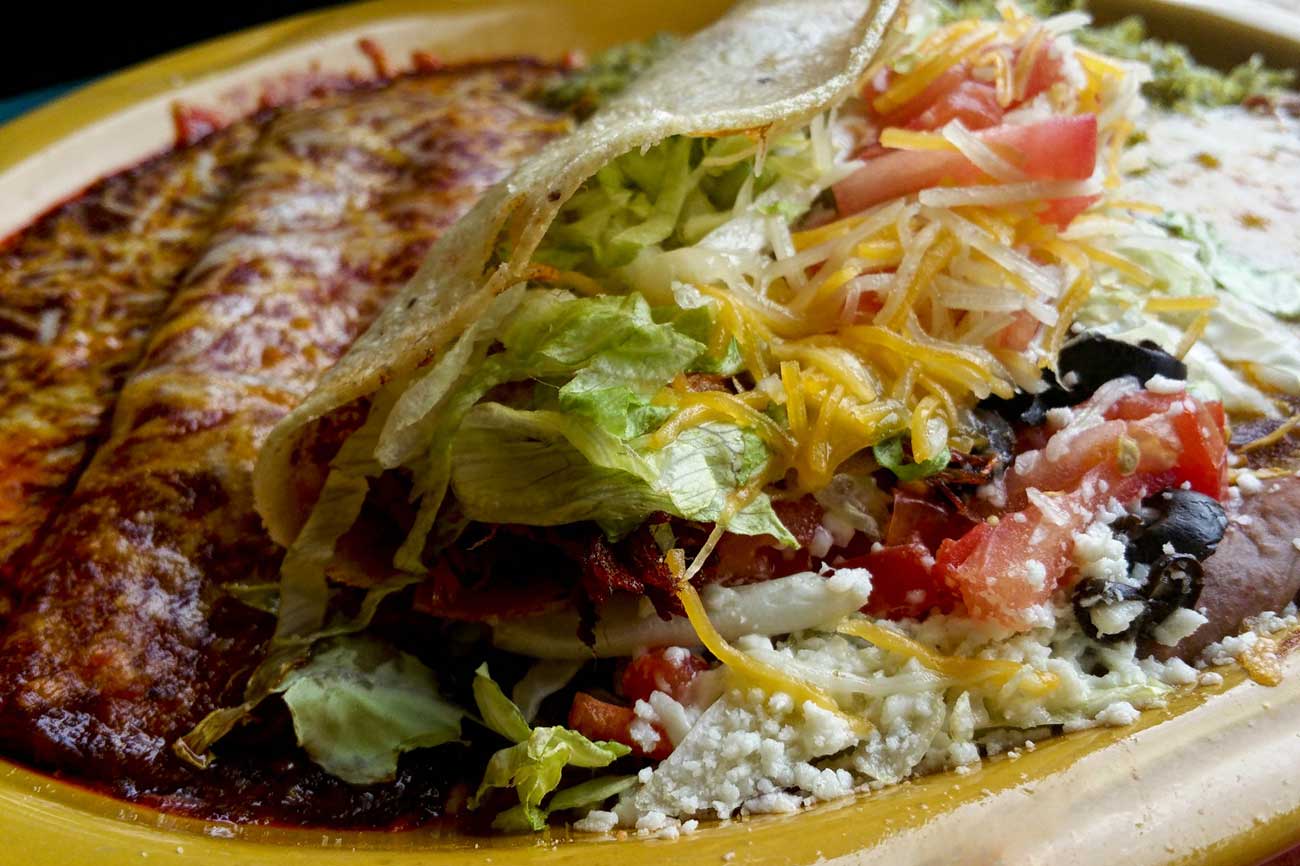 (Serves 8) INGREDIENTS
4 cups

shredded cooked chicken

4 large Green Chiles, roasted, peeled and diced

½ minced medium onion

2 tbsp vegetable oil

1 cup

media crema

1 cup chicken broth

2 avocados (one for the sauce, one for decoration into 8 slices)

1 cup fresh cilantro, chopped

1 tsp minced garlic

1 tsp ground cumin

½ tsp salt

1 lime, juiced

2 limes, sliced

3 cups shredded cheese (combine

queso asadero

,

cotijo

and oaxacan)

8 large flour tortillas

¼ cup chopped green onion

Preheat Oven to 350 degrees.
In a blender, add the media crema, broth, 1 diced avocado, 2/3 of the cilantro, cumin, garlic, salt, lime juice. Set aside.
In a large bowl, combine the chicken, chiles, onion and add ½ the cream mixture. Spray a large baking dish with non stick or smear lightly with vegetable oil and a thin layer of cream at the bottom.
Assemble the enchiladas by placing ½ cup of the chicken mix along one side of the tortilla, top with ¼ cup of the cheese blend and place seam down into baking dish. Repeat for all 8 tortillas. Top with remaining cream sauce and cheese. Cover with foil and bake for 15 minutes. Then remove foil and bake 10 more minutes.
Garnish with the green onion, slice of avocado, cilantro and slice of lime. Serve with a side of rice.
TIP… With the busy holidays taking up all your time, you can prepare this dish in advance and reheat in the oven for a quick protein filled dinner or when friends unexpectedly drop by.