Positioned at the heart of the renewal of circus arts, Cirque Éloize has been creating moving performances filled with magic and emotion since 1993. Continually striving for artistic perfection, it is one of the leaders in contemporary circus arts.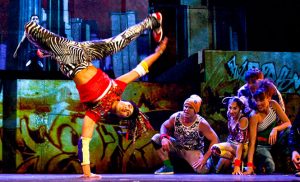 Based on the multidisciplinary talents of its artists, Cirque Éloize expresses its innovative nature through theatricality and humanity, and combines circus arts with music, dance and theatre in a path-breaking and original manner.
With ten original productions to its credit, Cirque Éloize has presented more than 4,000 performances and visited some 440 cities in more than 40 different countries. Cirque Éloize has taken part in numerous prestigious international festivals. Its shows have seduced Broadway and the West End.
In his return to directing, Jeannot Painchaud presents a show positively crackling with daring and modernity. Created in 2009, Cirque Éloize's iD is a blend of circus arts and urban dance: b-boying/b-girling, breakdance, hip-hop and more. The scene is set in the heart of a city, in a public space where people seek refuge and a chance to shed their anonymity; a place where identity is forged and individuality is expressed to a stimulating soundtrack.
The company has integrating multimedia for the first time in its 8th original creation, giving this show a unique feel. Fifteen performers from 13 disciplines help create iD's entertaining and resolutely urban universe, in keeping with Cirque Éloize's tradition of using multidisciplinary performers from around the world. Enjoy this unique show in Cancun at Moon Palace Arena from December 22nd to January 3rd.