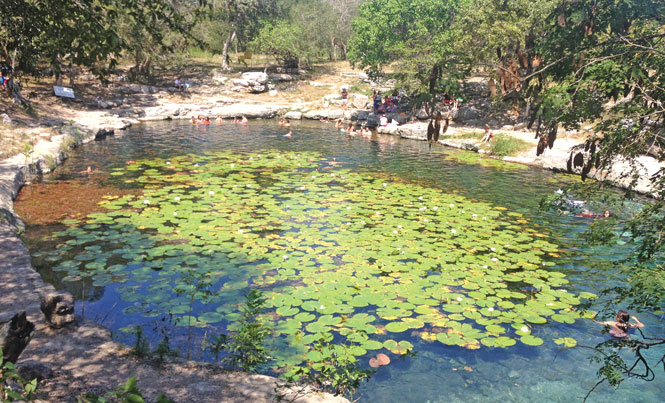 The porosity of the limestone in the Riviera Maya allows pollution from surface activities to flow down to the underground water, eventually reaching the sea with minimum filtering
The Riviera Maya is part of a larger region called the Yucatan Peninsula (YP) which has an enormous limestone platform with high porosity and permeability. This coupled with lots of rain through thousands of years has resulted in unusual surface features like sinkholes (cenotes) and a complex underground water system with caves.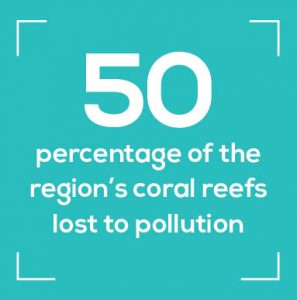 Cave exploration through SCUBA diving started in the early 1980s and has revealed an extensive system of tunnels, caves and sinkholes along the YP and the Caribbean coast. The YP has the three longest underwater cave systems in the world and snorkeling/diving in cenotes is an important tourism activity. However, the porosity of the limestone allows pollution from surface activities such as urbanization, tourism, or mining to flow down to the underground water with minimum filtering. The underground river system effectively drains the waste to coastal springs providing passageways that link water originating from inland areas to discharge areas along the coast, providing a route for pollution to reach the Caribbean Sea and its precious coral reefs.
Scientist believe that land-based sources of pollution such as discharge of untreated sewage and wastewater, along with other issues like overfishing, may have contributed to the loss of up to 50% of corals on the reefs along the region's coast. Given the foreseen increase in coastal settlement and tourism activities in the region coupled with the elimination of natural filtering ecosystems such as mangrove forests and dunes, prevention measures and a better understanding of this system are urgently needed to ensure that expanding development does not damage the marine environment, human health and, in turn, the region's tourism-based economy.
So, are you visiting a cenote? Use biodegradable skin products and take your trash with you. Do you live here? Use biodegradable products (skin care, detergents, etc) as they will likely end up in the underground water system. Are you planning a development or business here? Learn about the appropriate wastewater disposal specific to this region. If 'those In charge' insist on using national regulations for wastewater disposal which are unsuitable for this area, at least we, the community, can do our best to pollute a little less.