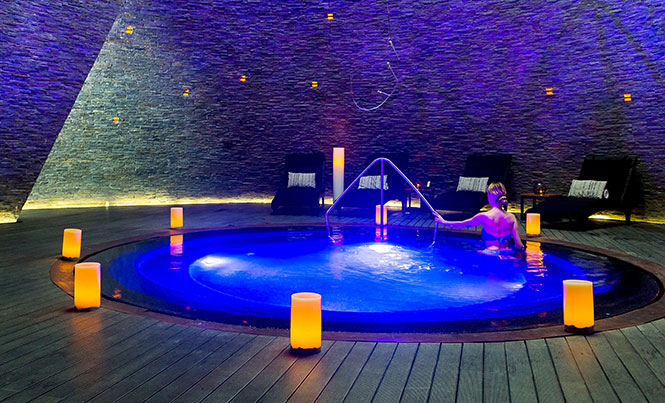 Visit the luxury facilities in the heart of Playa del Carmen and experience a unique ambiance inspired by the Riviera Maya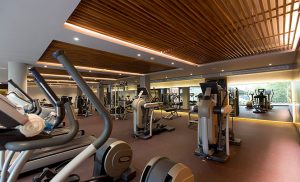 The award-winning Cenote Spa at the Grand Hyatt Playa del Carmen is named after the fresh or 'sweet' water river openings, emblematic of the Riviera Maya and Yucatan Peninsula. The central 'replica cenote' cave features a circular, warm water pool bathed in natural light from the opening high above. Warm, orange illumination from the candle- style lighting placed in the cave walls represents constellations. Designed by architect Javier Sordo Madaleno, this cave-like, shared space can be enjoyed by both men and women, before and after spa services. You can relax on lounge chairs while you get in touch with your artistic side by coloring in a mandala or reading about your favorite artist from their selection of books.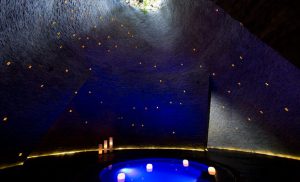 The luxury facilities at Cenote Spa include a eucalyptus fragranced steam room, sauna, Jacuzzi, invigorating cold plunge and chromotherapy experience shower. The spa incorporates six single treatment suites and two couples suites that feature private bathtubs, showers and dressing areas. All treatment suites are expertly designed and overlook natural mangroves and lush jungle foliage, with outdoor terraces where guests can enjoy the pre-treatment foot ritual.
The treatment menu offers a wide variety of massages, facials and body treatments. You can tailor any Cenote Spa experience by customizing your music preference and choosing from six options. You select your aromatherapy oil based on what speaks to you most at the time, with choices that include muscle release, stress relief and energy balancing.
A full-service salon offering styling, manicures and pedicures complements the spa, in addition to a 25-meter lap pool and a fully equipped fitness center. Staying up to date with new trends, Cenote Spa recently launched AquaForza classes held in the lap pool or in the main pool overlooking the Caribbean Sea. AquaForza is a functional exercise class held on a floating board tied in place in the pool, using a combination of water, balance, and specific exercise moves. You use your own body weight to strengthen your muscles, improve your balance and core stability and increase blood circulation. Cenote Spa offers two varieties of AquaForza classes: Strength and Conditioning and AquaForza Yoga.
This February, Cenote Spa is offering their customized 'Love Is in the Air' Valentine's package, including a welcome mimosa, followed by a chocolate fountain with aphrodisiac fruits served in the relaxation area, to be enjoyed while listening to a guest DJ spinning soothing, sensual sounds. Choose from two spa experiences; the 45-minute Sensorial Aromatic Massage to heighten the senses and relax the body, followed by a 15-minute aromatic bathing experience with your choice of aroma. The alternative, a Neuro-Stimulating Massage, is a 60-minute experience designed to invigorate and uplift your senses with notes of bergamot and orange essential oils.
This luxury spa journey is available from February 13 – 15 for couples looking to enjoy a sensual shared experience and singles embracing self-care and celebrating abundance and joy of life. It is priced at 2199 pesos per person and is for a limited time only.
The Grand Hyatt Playa del Carmen has recently created an exclusive membership for local residents who want to take advantage of the luxurious facilities on a regular basis and receive the ultimate in service, such as valet parking and personal training. This limited membership is available to just 10 people at a cost of 139,000 pesos annually. It includes unlimited fitness center access, a variety of conditioning classes, a 60-minute spa service monthly, a 30% discount on spa services and in La Cocina restaurant and The Grill at 1 26 restaurant. It also includes one night's hotel stay per year.
For locals with resident I.D., Cenote Spa offers a 30% discount on all spa services depending on availability and a 50% discount one time during the month of your birthday. When you've decided it's time to indulge a little,