Discover Mexico
Xpu-Ha Beach
This hidden gem is gaining in popularity for locals and is a pleasant surprise for visitors to the region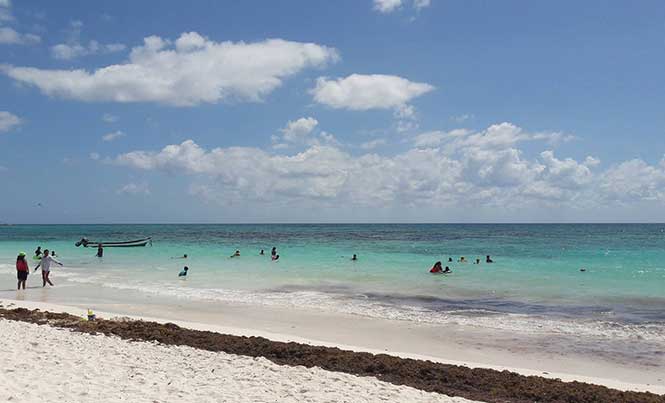 "Esh-poo-ha." That's the way you pronounce the name of my favorite beach in the Riviera Maya. I have heard it referred to as a hidden gem, and for those of us who frequent it, there is a selfish wish that it would remain that way.
Most people who are visiting from out of town have a similar story as to how they find their way to Xpu-Ha. It is usually due to a recommendation from a friend or fellow tourist, or just by a random search on the internet. Locals are aware of it, and Sundays are the busiest day as a result. To get there, you must take the colectivo that goes to Tulum, and tell the driver that you are getting off at Xpu-Ha beach. The ride will cost you 35 pesos one way if you leave from the terminal at 20th Avenue and Calle 2.
After 25 minutes of driving, just past Puerto Aventuras, you will arrive at the entrance to the beach. There is a charge for entry. The fee is refundable if you make a minimum purchase at La Playa Restaurant and Beach Club, which you will find at the end of the road that leads to the beach. This is a nice place to eat, hang out, and grab a few drinks. They have many tables set up on the beach and inside, and often have a live band on weekends.
Further south you will find KSM Beach Club. This is ideal for those who like watersports. They rent kayaks, boogie boards, and snorkel gear. Guests can use equipment all day, while visitors are charged by the hour. They also offer kitesurfing lessons, with professional instructors on hand.
I also recommend that you wander away from the crowds at the beach clubs and find your own private area to camp out, as many visitors do. The first time I went, it reminded me of when I saw the film The Beach. If you go really early the water here is so calm and still that it resembles a pool. I'm not surprised that photographers use it a lot for weddings and trash-the-dress shoots. Corona even filmed a series of television commercials there. Don't forget to take some pictures when you are there. Xpu- Ha's status as a hidden gem may not last for long, so discover it while it remains that way.