Health & Fitness
YHI Spa at Paradisus
Four new massage therapists at the spa are treating guests to a unique and spiritual energy that is also motivating their colleagues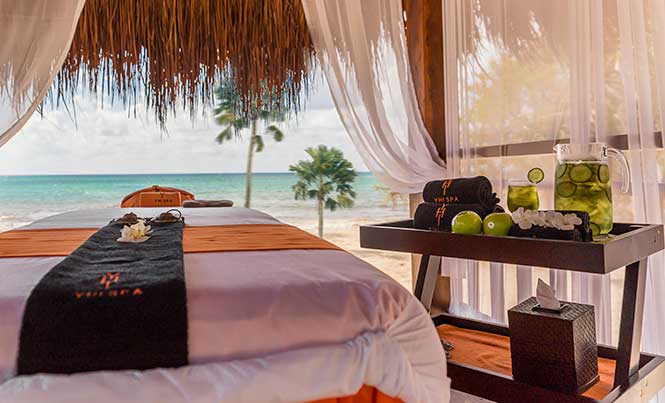 The delicate sound of chimes wakes me from my blissful sleep. I feel as if I´ve been asleep for days, fully rested, yet reluctant to be returning to the real world. I wait, listening as the massage therapist from the YHI Spa at Paradisus Playa del Carmen makes his final preparations to leave the room. He is very quiet, almost catlike as he moves around the room, positioning my robe and slippers by the table. As he exits the room, I stop fighting the urge to remain on the table for another hour…or three. What comes to mind as I stretch and yawn is that this was one of the best massages I´ve had, and I´ve had countless. This one, however, was unique as this was the first massage therapist that I have had who is visually impaired.
I had the opportunity to sit down with Elizabeth Gutierrez Infante, the YHI Spa manager, to learn more about the spa and their newest massage therapists. She explained that the spa is named after YHI, the Australian Aboriginal sun goddess, goddess of light and creation. YHI Spas are part of the Meliá Hotels International family that includes Paradisus Playa del Carmen.
YHI Spa is available not only to guests of the hotel but also to the public. The spa offers 65 services, including massage, facials, and body wraps. There are two VIP rooms that include a jacuzzi. These rooms are perfect for their Red Passion service, which is available to couples. It includes massage, facial, body wrap, and use of the jacuzzi. The spa offers 14 massage cabins and six beachfront massage cabins. Additionally, they have saunas, a steam room, and a vitality pool. The vitality pool includes high-pressure showers that give aching muscles a much-needed hydro massage. The water is cold so it helps increase blood flow and is perfect during the hot, summer days in Playa del Carmen.
¨The difference between YHI and other spas is that we use a free technique. Everybody has unique needs,¨ explains Elizabeth, and their 25 massage therapists from all over Mexico are able to provide you with a personalized massage.
Recently, the spa welcomed four new members to their team; four gentlemen, all experienced massage therapists, who also happen to be visually impaired. However, Elizabeth explains, "I can tell you that I have no therapists with a disability." Their integration in the team has exceeded her expectations. She says it took about two weeks for them to become acclimated, and then they began working with guests one-on-one. ¨In the beginning, we would meet them at the main entrance of the hotel and escort them to the spa. Now, we only assist them when we introduce them to the guest.¨
The program Incluyéndote (Including You) is a social inclusion program based on principles of fairness and equality that rule Meliá Hotels International. More than 40 people with disabilities work at Paradisus Playa del Carmen, people with different impairments like motor disability, and those with vision and hearing impairments. They have also opened employment to the elderly, a practice that is unfortunately not common in Mexico.
In the beginning, the team at the spa was anxious about their newest team members. They were not sure that the team was prepared to provide them with the assistance they thought they needed. ¨Now¨, Elizabeth says, ¨They are part of this family.¨
The feedback from clients and other team members has been overwhelmingly positive. Elizabeth remarks that ¨The massage therapists have a certain, almost spiritual energy. They connect with each guest. I think people have the wrong idea when we use the term inclusive, it´s not that we are giving them the opportunity. They give us the opportunity because (working with them) is very motivational.¨ They have taught the team that there are no obstacles in your life that you cannot remove yourself.
To experience the luxurious services available at YHI  Spa at Paradisus, please visit www.paradisus.com. or call 984 877 3900.