Stay Hydrated in the Sun
There are many ways to avoid dehydration during these hot summer months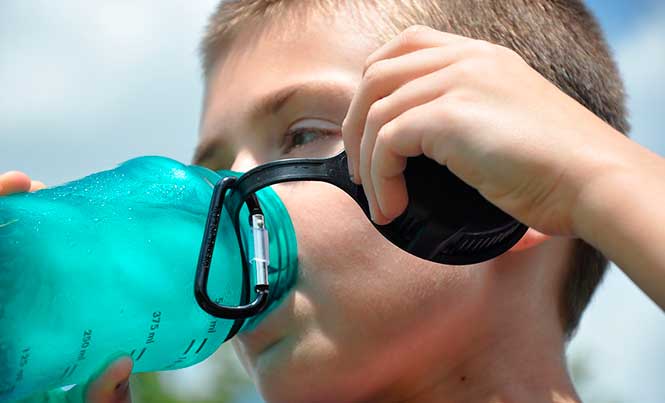 Staying hydrated in these hot summer months is extremely important. Adequate hydration is often overlooked by those visiting the area and the effects of dehydration can hit you fast. Hint – the ice in your cocktail on the rocks is not enough to keep you hydrated!
Drink before you feel thirsty
Once you feel thirsty, you are already dehydrated. Your brain won't be working as efficiently and your body may feel exhausted. Drinking water regularly will prevent you from feeling thirsty and suffering these effects. Due to the high humidity here, you won't have tell-tale signs like dry lips as you would in a dry, hot climate.
The ice in your cocktail on the rocks is not enough to keep you hydrated!
Water over sugar or alcohol
OK, so you also want to have fun and enjoy your cocktail on the beach, try alternating each drink with water to hydrate between drinks. Instead of soda (or diet soda) or fruit syrups in your cocktails, try agua mineral. Limit sugary sodas for children and encourage them to drink water regularly too.
Keep water with you
Ideally, use a washable, refillable bottle to help reduce plastic waste. Most bars and restaurants will also serve drinking water (agua de garrafon) free of charge while you're eating or drinking at their establishment. Some restaurants in Playa don't like doing this; out of principle I then avoid these places – drinking water should be free to all.
Flavor your water
If you are one of those people who needs flavor and doesn't enjoy plain water, infuse your water with fruits and herbs of your choice to make it more interesting and enjoyable. Here in Playa we are lucky enough to have an abundant supply of low-cost coconut water. Agua de coco will hydrate you and replenish electrolytes and minerals; choose this over a sports or vitamin drink full of sugar.
Eat your water
So many fruits and vegetables are great sources of hydration, not to mention the host of other health benefits they provide: cucumber, carrot, radish, watermelon, papaya, pineapple, grapes, kiwi, etc. Drink up!
Sara Jones
Spa, Wellness & Lifestyle Expert, Spa Consultant and Founder of Spa & Wellness MexiCaribe magazine