Foodies
Festival Gourmet Barceló – Third Edition
For one week in September, the Barceló Grand Resort will celebrate the gastronomic treasures of Mexico and the Riviera Maya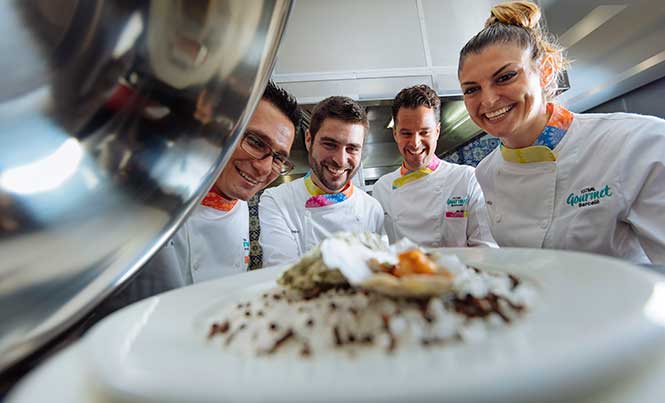 I was recently invited to Axiote Restaurante for a presentation on the upcoming Festival Gourmet Barceló. In addition to some delicious food, I got a taste of what to expect from the Barceló event.
The third edition of the festival will take place at the Barceló Grand Resort from 8-15 September. The Spanish hotel group has a significant presence in Mexico and is keen to promote the country as a culinary leader worldwide. The event boasts a line-up of 11 renowned Mexican and international chefs, several of whom are local to Playa del Carmen as collaborators or proprietors of eateries.
Various festival packages, including overnight stays, are available to the public, priced from $700 MX upwards. In addition to wine tasting and cookery classes on the beach, the main event each day will be a meal and wine pairing hosted by one of the featured personalities. Chef Xavier Pérez Stone, owner of Axiote, located on Calle 38 just off Fifth, is proposing six to seven courses for his meal on September 13. Spanish chefs Albert Balaguer and Eva Millán will team up to present the flavors of the north and south of Spain respectively on September 12. Juana Bravo was one of the chefs representing Mexican cuisine when it was declared an Intangible Cultural Heritage of Humanity by UNESCO. She and Rosalba Morales, member of the Worldwide Forum of Mexican Gastronomy, will present a special meal and wine pairing of traditional Michoacán fare on September 9.
"11 personalities and culinary artists will delight the palates of locals and visitors to the Riviera Maya"

Festival Gourmet Barceló
Joining us for the event presentation were three of the 11 culinary artists who will participate in the festival: Pedro Abascal, Albert Balaguer, and Xavier Pérez Stone. I spoke to Barcelonian chef Albert Balaguer about his passion for Mexico and the culinary scene here. He recently opened his own restaurant on Fifth Avenue, Cocina Canalla Tapas & Cañas, offering Catalan-style tapas. When I asked him about Playa del Carmen's position as a gastronomic tourist destination, he enthusiastically agreed that the city is at the top in this regard. "Mexican products, wine and cuisine are of a very high level. The produce that comes from here is comparable to that of Spain or France – meat, dishes, wine, coffee – the produce is of first-class quality, above all in Quintana Roo".
Let's see what these wonderful local and national products inspire the talented chefs to create at the festival. For further information about the Festival Gourmet Barceló, contact ventas4@barcelomaya.com or visit www.barcelo.com