Discover Mexico
Ch'uhuk Piña – Pineapple Town
This ecotouristic lodge has one of Mexico's jewels as its main focus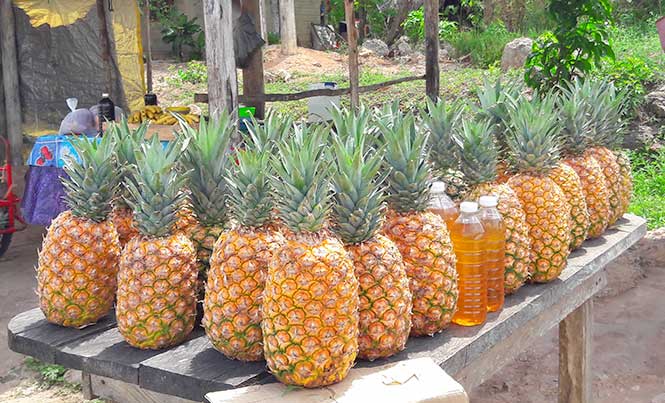 Did you know that Mexico is among the top 10 pineapple producers in the world?
Heading to Bacalar recently, we found a town with a pineapple monument at the entrance, and met some  pineapple sellers on the side of the highway. We bought delicious pineapple slices that tasted like honey!  The best I´ve ever had.
This is a good season for the pineapple harvest; Freshplaza.com reports that the states with the greatest production in descending order are Veracruz (500,000 tons), Oaxaca, Tabasco, Quintana Roo and Jalisco. In total 875,742 tons were produced in 2016.
In this town, there is also an ecotourism area "Ch'uhuk Piña" founded by Alfonso Aguirre, in 2014. They offer tours of the Maya jungle called Sendero de la Piña  (Path of the Pineapple) where tourists can visit the plantations of the different varieties of pineapple, discover the process of natural production of  pineapple, the types and characteristics.
There is a good restaurant with an extensive menu of typical dishes made with pineapple and regional products, not to mention fresh pineapple juice.  There are also wooden cabins for resting and a lagoon for kayaking and swimming.
Where is this place? On the Carretera Bacalar-Cancún, at the intersection between the city of Mérida and the archaeological zone of Chacchoben. For reservations 983 73 239 92 chuhukpina@gmail.com
For pineapple enthusiasts, keen to know more before their visit, Freshplaza.com also reports that "the main export destinations for Mexican pineapples are the United States, South Korea and Spain". Although pineapples are cultivated in Mexico throughout the year, the greatest harvests are during the months of April, June and July.
Sources: